Students of some private Higher institutions of learning in the English-speaking South West region of Cameroon have been asked to collect their share of the Presidential excellence grant in Yaounde, in the country's French-speaking Centre region.
Many of them have raised concerns over the decision by the Higher Education Ministry, stating that it inconveniences them.
"Today I almost lost my life in an accident because of 50000frs… Where are we going to? can someone explain to me why students of professional institutions in BUEA and Bamenda have to travel to Yaoundé for the grants and also their certificates?" a student asks, stating that traveling four over five hours to collect the grant is unfair to them.
"Now, leaving Buea to Yaoundé we have to spend almost 15000frs. How will the 50,000frs help a beneficiary when their transportation is not considered?" a student said.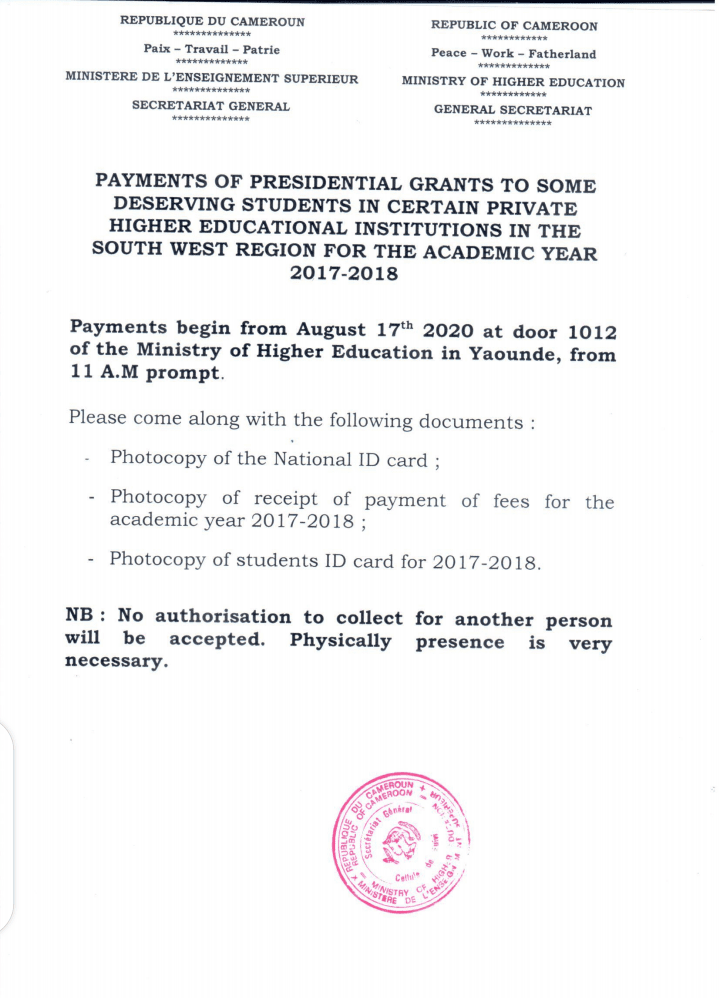 The Presidential Excellence Award is a yearly grant from President Paul Biya, to meritorious students in all the State universities in the West African Nation.
"It aims at promoting excellence as a means of achieving Cameroon's Vision 2035 of becoming an emergent nation," education officials said while launching the grant in 2010.
However, the initiative is at the center of the debate, year in year out. "In what part of the national budget does the money come? Is it Paul Biya's personal money or he has to use the state budget annually unexplained for the exercise," asks a social critic in Cameroon.
To receive the president's financial package, the following documents are needed:
-Photocopy of National ID Card
-Photocopy of receipt of payment of fees for the academic year 2017/2018
-Photocopy of student ID Card for 2017/2018
Students in the Anglophone regions have to also present these documents before receiving the money in Yaounde, where they also say, they have to travel to for their results.
"We write HND in Buea. For our slips to get to us, our institution asks us to pay 10,000frs just to collect a slip and when the certificates are out if you can't go to Yaoundé then your certificate can't be sent to you. Must we go to Yaoundé for everything we need when we have the regional Delegation of Education in Buea," our source questions?
Ove two decades after adopting a decentralization plan, several services remain concentrated in the capital, Yaounde.
Even the special status conferred on the Anglophone regions of Cameroon as part of the November 2019 National Dialogue resolution, has not been able to adequately provide a framework for the practice of decentralization.
Mimi Mefo Info
You can help support our work through the link below