A first set of Cameroonians deported from the U.S. have spent over 24 hours in the country.
Prior to their deportation, U.S. Immigration and Customs Enforcement, ICE refused to comment on their deportation process.
It is however speculated that their deportation cannot be blamed on the lack of documents only. In a letter written in February by some Cameroonian asylum-seekers, they accused U.S. immigration authorities of coercing them to sign their own deportation papers.
This, the ladies identifying themselves as Southern Cameroons refugees, said was in addition to the lack of medical care and discrimination meted on them.
"Some of our sisters have gone through the court proceedings … and have been failed, despite all what is happening in our country … Some of us, even after appealing, are being forced to sign deportation and parole denial letters against our will," read a part of the letter titled 'A Cry for Help'.
They added that "the population of African women in this facility is about 300 and more than 200 of that population are Cameroonians and the population keeps increasing on a daily basis… Some of our sisters are sick and not being well treated. One person is [in] a wheelchair who needs surgery and many others with serious health conditions who also need surgery but are being neglected…"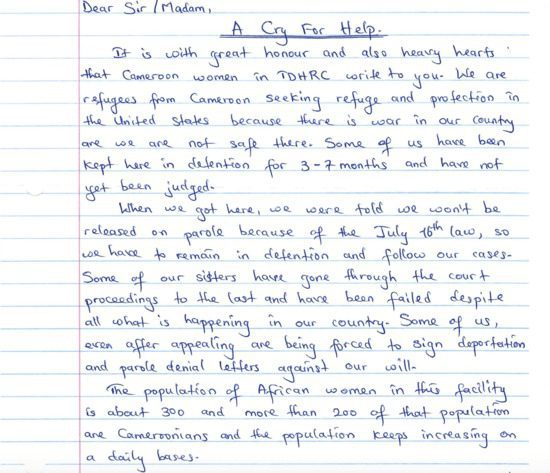 The ladies noted that they had spent over seven months at the detention center due to delays in judicial processes.
The asylum seekers would later engage in a protest that saw many of them transferred from the camp. Media sources revealed that they were transferred from the Detention Center because of their refusal to "comply with requests to discontinue blocking critical pathways."
Amnesty International prior to yesterday's deportation warned that the lives of the asylum seekers could be at risk if they returned to the country. This it stated, was as a result of the Anglophone criss in the Anglophone regions that have seen thousands lose their freedom and their lives.
The call against deportation was supported by a number of U.S. congressmen who explained that it was tantamount to sending them to their graves.
Mimi Mefo Info
You can help support our work through the link below