The shocking love story of a 25-year-old boy, Muima in love with an 85-year-old woman, Theresa has set the social media ablaze.
It is a unique love story playing out in the Democratic Republic of Congo. Many have been plunged into deep thoughts since the emergence of this unique love story between Muima.
Some are still reeling from the thought of these two fulfilling their conjugal duties in an ideal African home.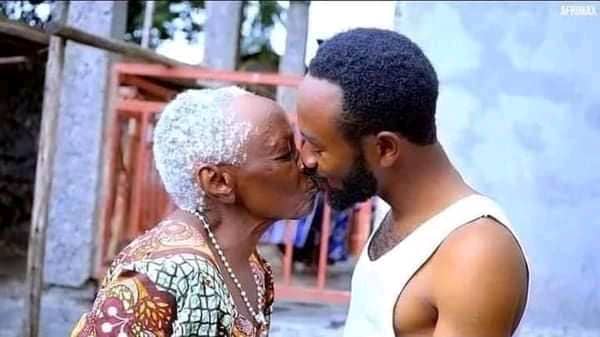 The love affair had begun a couple of years ago. Today, several romantic pictures of the couple have blown off social media, with the duo looking inseparable in the midst of all the buzz.
So How did a 25 year old fall in love with a woman old enough to be his grand mother?
Revelations have it that Muima was Theresa's tenant. He had moved into the house where he could settle and further his studies.
Theresa would usually tease him by referring to Muima as her husband. She also gradually won him over with several gifts of money and food.
Gradually, Muima says he stopped seeing her as his landlady-grandmother, but more of a woman whom he could make out with.
Theresa on her part has equally affirmed to curious media men that she knows she could even be Muima's great grandmother, but was not fazed by the situation given that she felt happy.
According to Theresa, she is very ready to walk down the isle with her lover.
Her children and grandchildren have equally demanded for a bride price of 12 cows, and Muima has agreed to provide.
Muima, who has equally been in several relationships say he could not withstand the over demanding young girls, and hence chose to get into a relationship with Theresa.
"…I will never choose any girl over this one," Muima boldly declared in his interview with Afrimax.
"I pray she doesn't die before me for I can automatically commit suicide," Muima added. Watch video here
Theresa's children say they have done everything possible to break up the pair. One of Theresa's children told Afrimax that "…their relationship is an embarrassment to the whole family."
Even Muima's friends say they have tried advising Muima to end the relationship with the 85-year-old. The pair have their mind set on an eventual wedding.
Muima has told all his detractors that nothing will stop them from getting married.
"I advise people to get used to this because there is nothing they can do about it." Muima declared.
Mimi Mefo Info
You can help support our work through the link below