The Head of State, President Paul Biya has ordered for dialogue with teachers on strike for the third week. He has also instructed authorities to immediately pay their outstanding salaries ad allowances.

The Minister of State, Secretary General at the Presidency, Ferdinand Ngoh Ngoh made public the instructions of President Paul Biya in a release yesterday,
Ngoh Ngoh wrote that the President has ordered the Minister of Finance to "… proceed with payment from March 2022 of the monthly salary supplement to be paid to teachers who currently only receive 2/3 of their salary and the non-housing allowance due teachers…"

Among others, he was also instructed to proceed with the installmental payment from the month of June 2022, settlements relating to the advancements and reclassifications of teachers.

President Biya through Ngoh Ngoh also ordered the ministry of Public Service and Administration Reforms to treat "as a matter of urgency," integration documents from the ministries of Basic and Secondary Education.

In addition to the many measures cited, the Secretary General at the Presidency noted that the Head of State has also instructed the ministers of Public Service, Basic Education, Secondary Education and Finance to address the press on the issues today.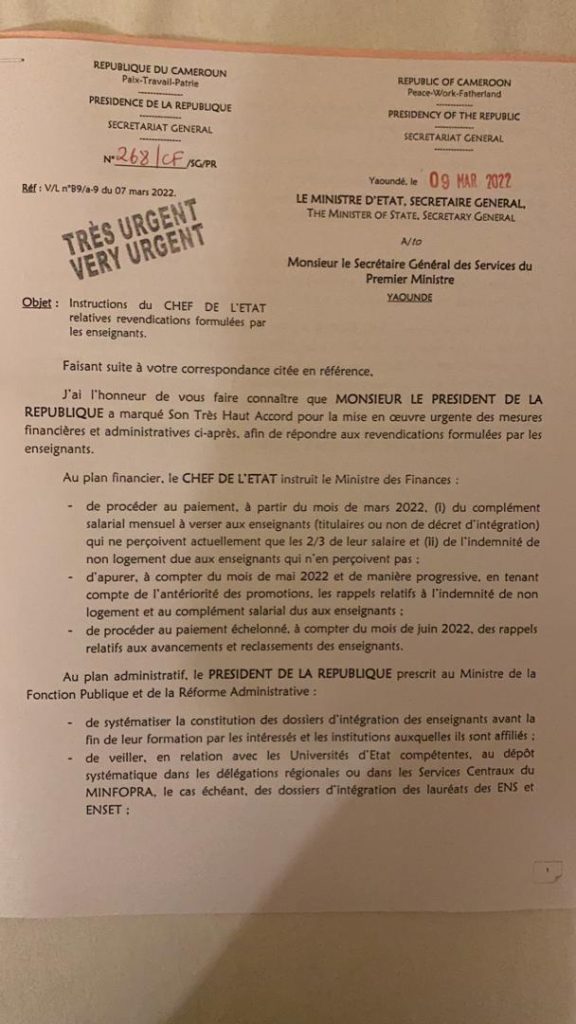 The aim of the press conference is to inform the national education family on how they will effect the laid down measures.

This is expected to be followed by another round of negotiations between government and the teachers' syndicates as ordered by President Paul Biya.
Teachers' persistence pays off
This latest development comes after a three-week protest in most parts of the country. At the start of the protest, teachers' syndicate leaders were invited to the Prime Minister's Office in Yaounde, but the talks yielded no fruits.

It was later announced that the President had ordered the disbursement of the sum of 2.7 Billion FCFA to sort out the protesting teachers' worries.

Yet, they held their ground, demanding a complete revision of the system to ensure a more convenient advancement and salary payment process.

Students too took to the streets in Douala to support their teachers. Many had feared the protest would get out of hand like the 2016 lawyers' and teachers' strike in the Anglophone regions which has since morphed into an armed conflict.
Government however, refrained from using violence to get them to class.
You can help support our work through the link below