Some two Cameroonian nationals identified as Erasmus Zinkeng and Prince Tamfu have died in a car accident in Panama, a South American country sharing borders with Brazil, MMI has gathered.
38 other migrants from different nationalities also perished in the accident.
The incident reportedly occured on February 15, 2023 when a bus transporting migrants to a refugee camp crashed.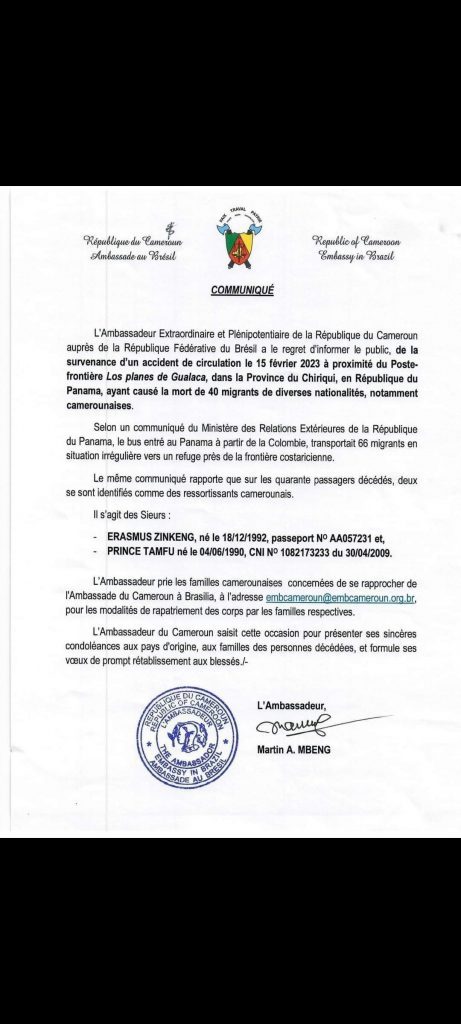 In a statement, the Cameroonian ambassador to Brasil said, "He regrets to inform the public that on the 15, February 2023, an accident occured near Los Panes de Gualca borders in Chiriqui province in Panama, killing 40 people including two Cameroonians."
"The bus entered Panama from Colombia transporting 66 migrants to a refugee camp near the Costa Rican border," the statement signed by Martin Mbeng added.
Of the two victims reportedly from Cameroon, Erasmus Zinkeng was found with a Cameroonian passport while Prince Tamfu was found with a Cameroonian national identity card.
Extending words condolences to the bereaved families, Mr Mbeng called on the families concerned to contact the embassy of Cameroon in Brasilia for possible repatriation arrangements.
Mimi Mefo Info
You can help support our work through the link below