The National School of Administration and Magistracy with its french acronym (ENAM) in the Republic of Cameroon has expelled two students on the bases of poor academic performance.
In a release signed Monday 9th March 2020 by the director of the institution, the students dismissed are Mbaitoubam Junior Steve- a cycle B student in the department of Customs. The release states that Steve scored 0.5.03 average on 20 in the final exam and Konodji Bertin. The student in the department of General Administration scored 9.17 on 20.
The performances of the students according to the director of ENAM Pierre Bertrand Soumbou falls "below average of an intelligent quotient of future administrators in Cameroon".
The students were admitted into the prestigious school that train administrators in Cameroon to study from 2017 to 2019 under a batch named "Peace and Unity"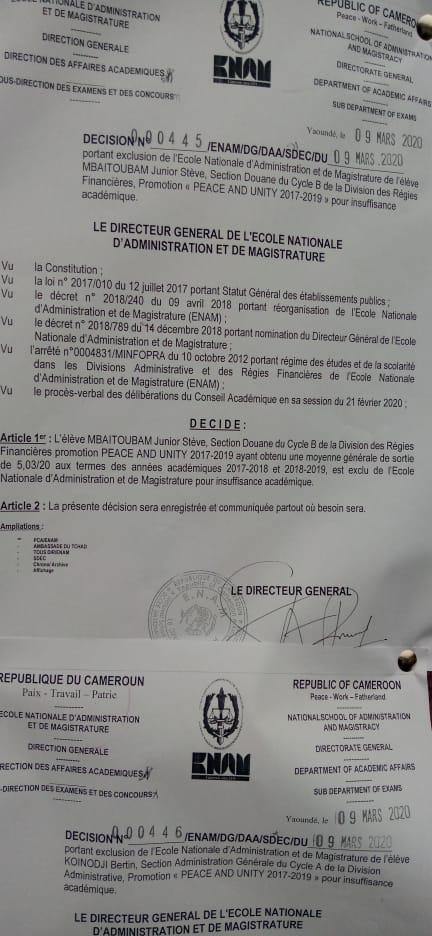 The admission of students into the National School of Administration and Magistracy (ENAM) in Cameroon has been over the years linked to corruption and tribalism.
Many Cameroonians say only sons and daughters of the rich, influential people and top militants of the ruling CPDM party in Cameroon gain admission there and not necessarily those who study, write and pass the entrance examination.
The appointment of the present Director of the Institution Pierre Bertrand Soumbou Angoula in a presidential decree raised debates as some critics say the director was mainly catapulted by Cameroon's First Lady Chantal Biya and Ferdinand Ngoh Ngoh, Secretary-General at the presidency of the Republic.
Mimi Mefo Info
You can help support our work through the link below