Despite the ongoing socio-political situation rocking the central African country, the US has proceeded to deport the second batch of Cameroonians back to Cameroon.

In the face of this, some U.S. congressmen have demanded that the Assistant Secretary of State, Bureau of African Affairs, Hon. Tibor Nagy should halt the deportation of Cameroonians scheduled for November 10.

The petition is signed by Ilhan Omar(Member of Congress), Cedric Richmond (Member of Congress), Joaquin Castro of the House of Foreign Affairs Committee, and Karen Bass of the House of Foreign Affairs Committee.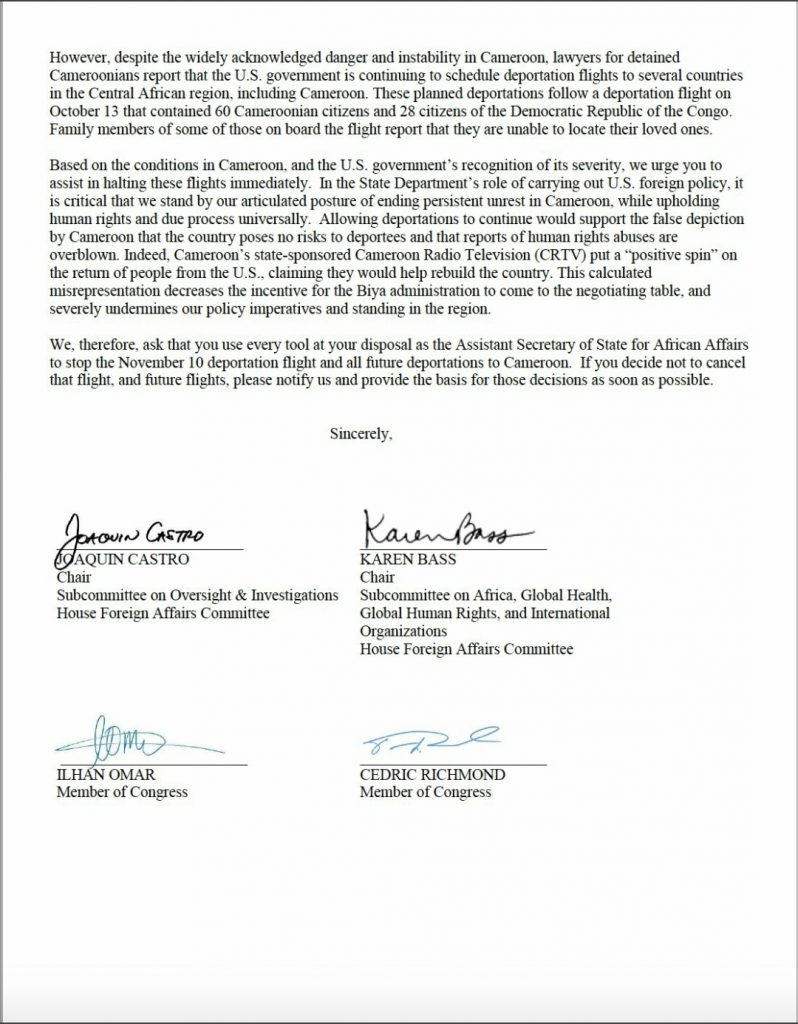 The major reaction to the first set of over 60 Cameroonians that had been deported over a month ago was that of extreme criticism and backlash. In the petition, Secretary Tibor Nagy is told that the first set of deportees are yet to reunite with their families.
Furthermore, the petition also points out the extreme abuse of human rights by both the government forces as well as the separatist groups on civilians in the Northwest and Southwest regions.

"The Department of State's own 2019 country report on human rights practices cited extra-judicial killings and forced disappearance by security forces, torture, and arbitrary detention by security forces and non-state armed groups…," it stated.

In the petition as well, the congressional representatives brought to attention the issue of information misrepresentation that often is falsely propagated by the state-sponsored media house, CRTV.

The congressmen note that while the CRTV depicts all favorable conditions put in place by the government to receive these deportees, it is however not the case as some of the deportees who have been earmarked as fugitives back in Cameroon will definitely have their lives put at risk with possible deportation.
Based on the facts of massive political unrest and possible endangering of deportees' lives if brought back to Cameroon, the members of congress in the letter to Secretary Tibor Nagy requested that he intervene to ensure that the deportation schedules are urgently canceled.

However, Secretary Tibor Nagy has not yet issued a formal response to the request and until then, the deportees are all expected to be put in a flight heading for Cameroon in the hours ahead.
You can help support our work through the link below