By Tata Mbunwe
The University of Buea, UB, has admitted that one of its students, Ngule Linus Fonteh, died in police custody earlier this month, as another, Mboh Jires Akua, who was arrested with him, remains behind bars.
UB's Vice-Chancellor, Prof Horace Ngomo Manga, noted in a released on March 30 that Ngule Linus, final year student of International Relations, was arrested to help in a police investigation on Separatist activities, but he died in detention.
"Nonetheless, two students of tye University of Buea, namely Ngule Linus Fonteh (LP20C610), a level 400 student of International Relations and Mboh Giress Akua (LP22P240), a level 600 student of Public Administration, were apprehended by the forces of law and order to assist them in their investigation of some terrorist activities. Unfortunately, Linus Ngule died whilst in custody," Prof Ngomo Manga wrote.
He also refuted reports that some two young men killed and brandished by the military in Buea on the same day Linus and Jires were arrested, were UB students.
An initial report published by MMI stated that Ngule Linus and Mboh Giress were arrested from their hostel in Molyko, Buea, in the afternoon of Wednesday, March 15.
MMI findings revealed that they were arrested and detained by police officers working with SEMIL, a specialized branch of the police force.
By 1:00 AM breaking Thursday, March 16, the officers brought Ngule's corpse to the Buea Regional Hospital mortuary.
They then called his older brother, Ngule Raymond, and informed to come to Buea and collect his brother's corpse.
Government yields to demand for autopsy
Based on the University of Buea's release, an autopsy "has been ordered to be carried out in the presence of the family, to ascertain the cause of death."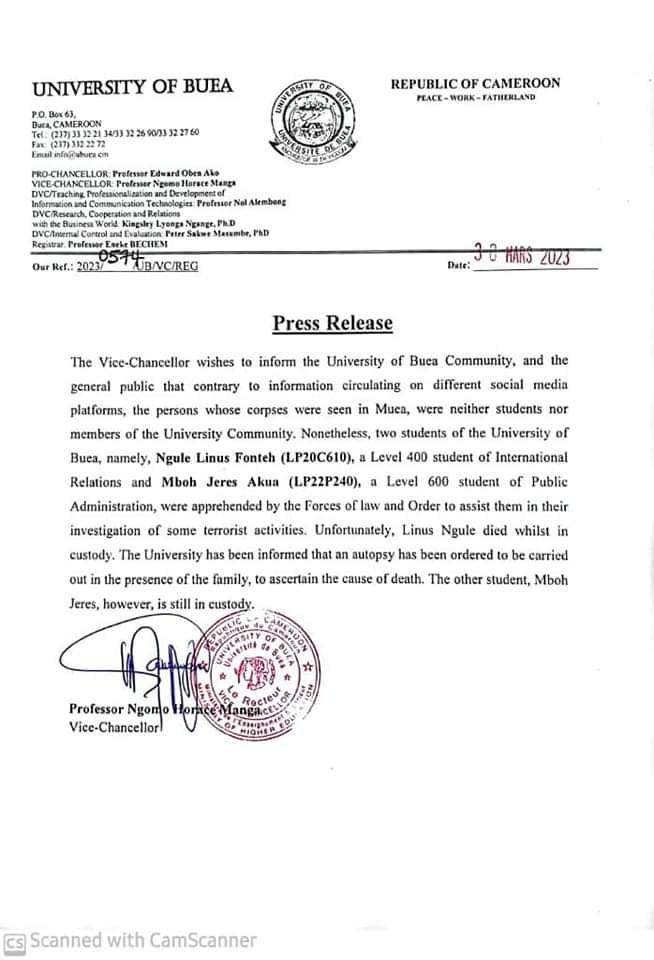 Few days after Ngule Linus died, a Buea-based human rights advocate, Barrister Agbor Nkongho, called for Government to order and autopsy on his body to determine what had killed him.
The police denied allegations that he was tortured and died in detention.
Rather, they advanced that he had fainted during the interrogation and was taken to the hospital where he died.
Mimi Mefo Info
You can help support our work through the link below