A body without head and a head without a body were found today June 14 at the Bamenda Regional Hospital in the North West Region.

This was disclosed by the director of the Bamenda Regional Hospital, Dr Denis Nsame, in a note signed today Tuesday.



He indicated that the "unidentified human head and human body without head are lying in the hospital mortuary in a poor state." He has therefore urged the public to "pass by and identify the said part within 48 hours."



If the above is not done within the said time frame, the parts will be handed over to the competent authorities without being identified, Dr Denis noted.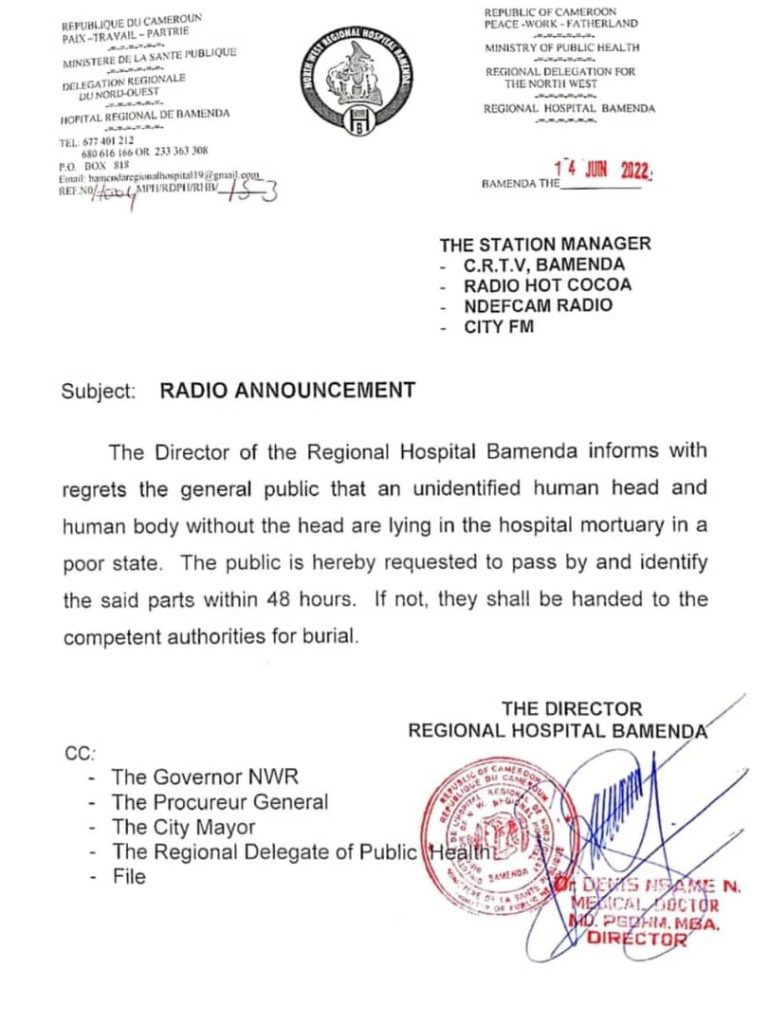 It remains uncertain if the body and head are of the same person. The perpetrators of the horrible act are however yet to be known, and authorities have remained mute.


The number of deaths witnessed in Bamenda as well as other English speaking towns in Cameroon has skyrocketed over the past five years, owing to the armed conflict. Rights bodies, investigative articles and international organizations have indicted both state and nom state armed forces for multiple rights violations including torture, abductions and killings.

By Amina Hilda


————————————-
The Mimi Mefo Info Team, (MMI) appreciates all your constant support.

We are driven by the fact that you remain our only source of inspiration, as we continue to gather, write and publish stories without fear or favour.

These are, however, very trying times for several journalists, especially for MMI whose reporters have to brave all the odds to work remotely for fear of reprisal attacks.

That's why we continue to ask for your constant support.

How to support us!

*Please share our website link with friends and loved ones daily


*You can also support our dynamic team working day in and day out to keep you up to date, with any amount.

Use the following payment methods:

PayPal: contact@mimimefoinfos.com

Mobile money: +237679135573

Bank Transfer: Account name: MIMI MEFO INFO LTD
IBAN: GB49TCCL04140456360181
SWIFT/BIC: TCCLGB3L
Intermediary bank SWIFT: BARCGB22 (only use if required by sender bank)*
You can help support our work through the link below