A staff of the University of Bamenda, UBa, has blamed some protesting post-graduate students of the institution for their fate, after they were sent out of the examination hall for failing to complete tuition fees.
This Thursday marks the second day of the protest staged by students who were refused from writing ongoing examinations on campus for not completing the fees.
"They come to UBa and meet low fees and high fees programmes and decide to enroll into the high fees Professional Masters programs, then they don't want to pay the fees," the UBa staff confided to MMI.
He added: "They willfully chose not to pay despite repeated reminders by the administration on the consequences of not paying in time."
Among these reminders, he said, was a communique signed by the Vice-Chancellor of the University of Bamenda, Prof Theresia Nkuo-Akenji, which extended the deadline for registration of courses and the payment of the second installment of fees to January 18, 2023.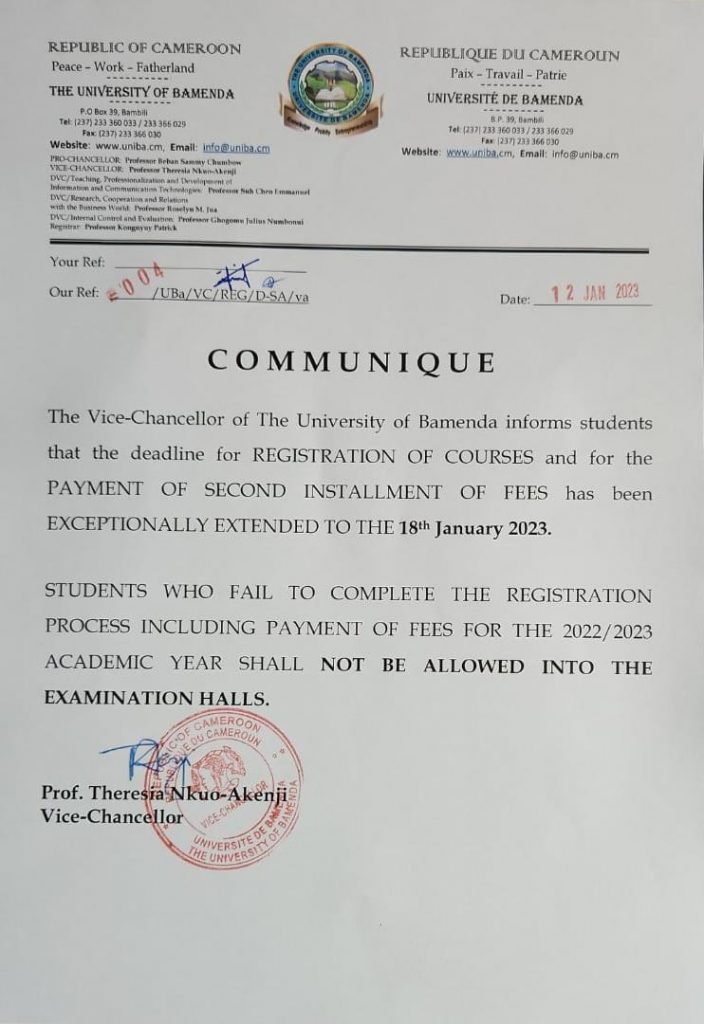 The VC equally noted that students who failed to complete the registration process before the said deadline shall not be allowed into examination halls.
"Now, about 5 percent of them want the University to make a fool of itself, by not respecting national texts and its own exceptionally extended deadlines. How can the country grow with such habits," the UBa staff wondered.
Earlier today, there was a tense atmosphere at the University's Bambili campus, as students continued expressing dissatisfaction after they were sent out of the examination hall on Wednesday, February 8, over nonpayment of the last installment of tuition.
By Amina Hilda
You can help support our work through the link below