Vanithels Khalifa is winner of the first season of Cameroon's TV reality show, Biggy237.
She won the crown after having accumulated the highest votes against eight fellow finalists in last night's finals.
Vanessa Fonyeh, 22, popularly called Vanithels Khalifa, won the highly-contested cash prize of FCFA 10million ($17852.92) which will be accompanied by a car and a free trip to Dubai.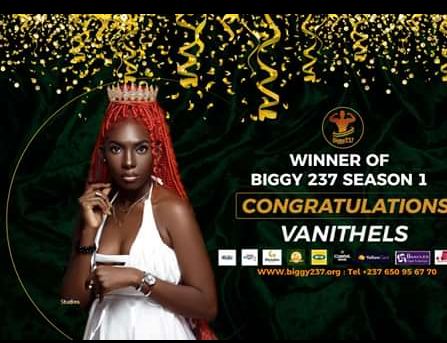 "Thank you all, thank you so much. Thank you Biggy237," said Vanithels on her Facebook Page after winning the show.
Among the nine finalists, Zita Minaj emerged the first runner up and was awarded a consolation prize of FCFA 1million.
Meanwhile Nerisa Akere emerged second runner up with FCFA 500,000 cash prize despite topping most single voting polls during previous evictions.
The contestants for the season's finals had voting percentages as follows: Vanithels (37.0%); Zita (30.5%); Nerisa (12.8%); Blanche (11.9%); Victor (3.8%); Popsy (2.0%); Claire (1.2%); Tjay (0.5%) and Branny (0.4%).
The winner was determined by counting the number of votes for each contestant done by viewers of the show via SMS messages, according to the event's organisers.
Applications for the first season of Biggy237 this year was free for all Cameroonians but it is not revealed whether application into the second season will be free.
Biggy237, Cameroon first TV reality show, started in August 2, 2020 in Douala, with 25 contestants.
After several evictions, 9 contestants were left to scramble for the winning position which included a cash prize of FCFA 10million, a car and a free trip to Dubai.
Vanithels is a stylist, actress, designer and model who hails from the Northwest region of Cameroon.
Mimi Mefo Info
You can help support our work through the link below