A Cameroonian travel agent named Awah Judith has been accused of trafficking girls to the Middle East and forcing them into prostitution.
A couple of young girls from Cameroon, some trapped in the region say she is responsible for their presence there, as well as for the lifestyles they now live.
"I did all I could to travel, thinking I was coming to get a better life, get a job, I was shocked I was being kept in a house and introduced to Arab men, by the same lady who claimed she was helping to take us out of poverty," said Anita (not her real name), one of the victims.
Hell in 'paradise'
Speaking from Hoora, a city in Bahrain, Anita told MMI that she had to escape from a household where she was assigned upon arrival, due to poor treatment and torture.
"I've been in Bahrain for close to two years … She got me here to Bahrain and told me I'm coming for direct employment. When I got here, I discovered something else. It was not even the job she promised me. She introduced me to something else," stated Anita.
Despite complaints, the travel agent is said to have given deaf ears, as the situation got worse. Anita noted that she "denied engaging in prostitution and left the lady's residence two weeks later."
"When I realised that this was going to be my lifestyle going forward, I had to look for an escape plan. I immediately searched for a job online and the outcome was positive. I was offered an accomodation and a salary," narrated Anita who added that: "I had to plead with the company to secretly pick me up at Judith's house just when she wasn't at home. That is how I set myself free."
Testimony
Our source revealed that many other young ladies, aged 21 to 25 brought in from Cameroon — fell into Awah Judith's snares.
"She has a flat. There, she brings the Arab men and they will sleep with us there," one of the girls stated, noting that Awah Judith is the one who receives the payment.
Awah is said to have relocated from the said town after security forces were alerted of her trade. Yet, her old habits are hard to get rid of, Anita testified: "she also deals in drugs…"
While Anita was able to leave, many other young girls remain trapped.
"They are all young, traumatised. They cannot even talk to each other. They might really not be able to escape like I did," said our source.
Awah Judith maintains sealed lips
MMI reached out to Awah Judith for comments on the accusations being made by the girls concerned but got no response. This was despite the fact that she read the messages that were written to her.
MMI wrote:
Good day Madame Judith. This is Mimi Mefo Info writing to you. Atleast three young girls in Bahrain have sent pictures, videos and testimonies to me alleging you operate a sex trafficking ring in Bahrain. That you lure them from Cameroon into Bahrain and give them to men at your house. Majority of them seem really traumatized. Would you want to give us your own side of the story? We are publishing the report in the hours ahead, and would appreciate if you get back to us on these allegations.

MMI's message to Awah Judith.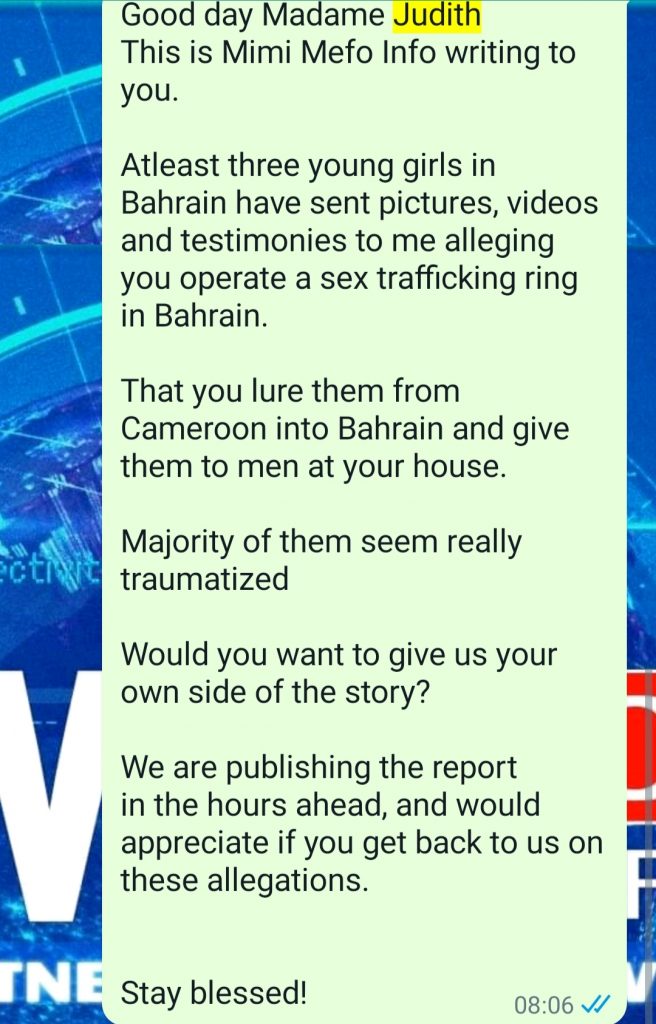 Bahrain; a death trap for African women
Anita has admitted that young girls like her need to be cautious to avoid falling prey.
"Most girls here are into prostitution and other ugly practices because life here in Bahrain is not easy… If our parents back home see it they won't be happy even if we give them money," she warned.
"I would not advice any young girl to come to this country. I am lucky I escaped, and that my passport was not seized. Some come here with visitors' visa and get stranded when the visa expires. Let everyone be vigilant.
While Anita is out of trouble, for the time being, hundreds of other young girls are believed to still be in danger. Many are being promised work but turned into prisoners upon arrival in the Middle East.
Thanks to rights and girls' advocacy groups, some have been able to return to Cameroon, and have been given psychological and physical care.
You can help support our work through the link below