By Tata Mbunwe
In a document addressing major issues in Cameroon, the Council of Traditional Rulers of the West Region have said the military option has met its limits in resolving the crisis in the Northwest and South West Regions.

Seven traditional rulers, representing all the seven divisions of the West, signed the document wherein they called on fellow traditional authorities all over the country to regroup themselves and find a traditional means of resolving the conflict in the restive English-speaking regions.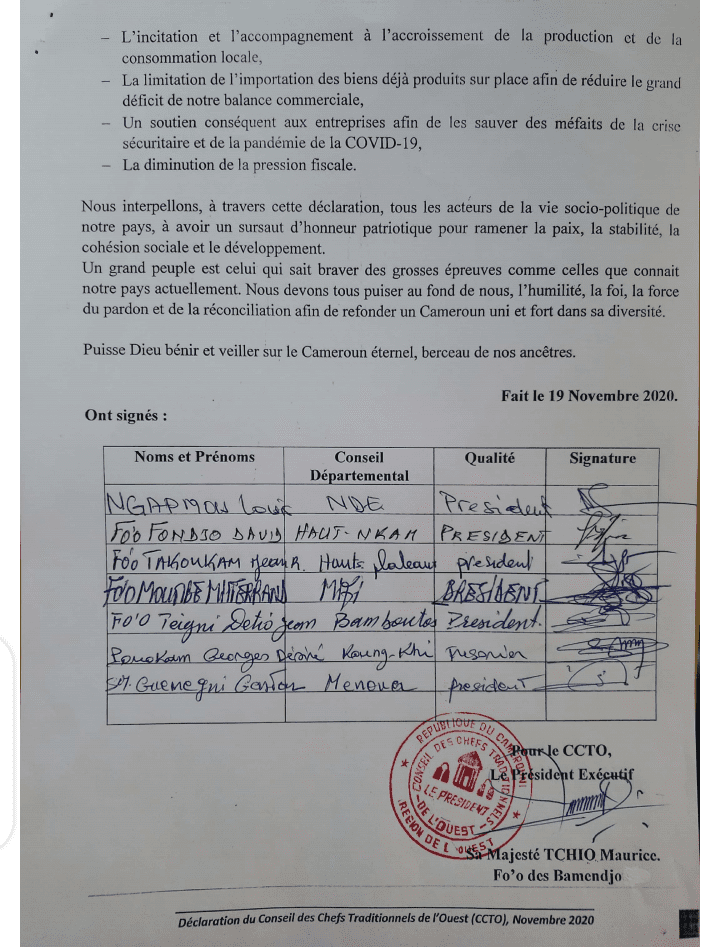 "While reiterating our attachment to the preservation of the territorial integrity of our country, we have the weakness to think that the military option so far used to curb this crisis seems to show its limits," they wrote.
According to the Chiefs, the four-year Anglophone crisis is now unbearable with aggravated violence that now targets children and traditional rulers.

They cited the killing of seven schoolchildren in Kumba, alongside the killing of Chief Esoh Itoh in Ndian Division and Chief Molinga Francis Nangoh in Fako Division.

Based on this, the Chiefs wrote, "We call, first and foremost, the traditional leaders of our country so that they urgently organize a meeting to activate, at their level, the traditional and customary mechanisms for resolving this type of internal conflict. We believe that the traditional chiefdoms should get involved in the search for an endogenous and concerted solution, for an effective reconciliation and a calming of hearts."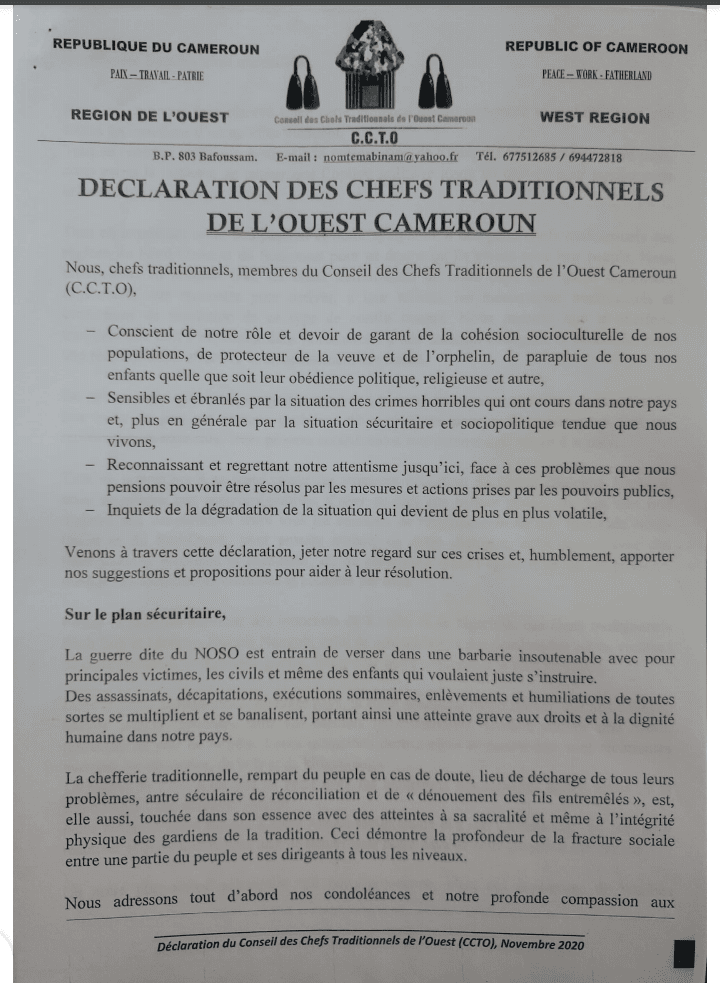 The conflict is now a display of "unbearable barbarism" and an affront to "human rights and dignity" in our country, the Chiefs wrote in the document.

The traditional authorities of the West Region said the killing of Chiefs and burning of palaces in the Anglophone regions "demonstrates the depth of the social divide between part of the people and their leaders at all levels."
They urged Parliament to address the crisis in the Anglophone regions during the ongoing sessions and contribute to ensuring peace in the Anglophone regions.

Addressing other problems in the country, the traditional rulers said the political scene is 'tribalistic' and justice has been 'politically instrumentalized'.

This follows the recent arrest and detention of Barristers Richard Tamfu and Tchuemegne after police stormed a Court in Douala, November 9, brutalizing lawyers.

They also praised defense and security forces for their bravery against the Boko Haram insurgency in the Far North Region.
"We reiterate our support for our Republican Army and its Commander-in-Chief to reactivate and intensify the fight in order to rid our country of this extremist gangrene."
You can help support our work through the link below