The recent Ministry of Arts & Culture (MINAC) law has been termed the killer law, raising eyebrows within the industry it was meant to promote. What exactly is in this MINAC document signed into law on 21st July 2020 by President Paul Biya?
The MINAC Law Explained
According to Cameroon's Ministry of Arts & Culture (MINAC), in Chapter I, Section I under the general provisions of the law, 'artistic and cultural associations shall be formed and carry out their activities in accordance with the law relating to freedom of association and the provision of law.'
The law certainly has its merits that are worth mentioning though these have mostly been overshadowed by the law's controversy. The government is using this law to authoritatively organise and streamline companies, unions, guilds and federations which are players in the arts and culture space as detailed in chapters three, four and five of the law.
With this arrangement in place, the government is hoping to bring the ever-growing number of associations and groups under one umbrella for easy management, to guarantee better health insurance for artists and provide support to artistic and cultural associations.
According to this law, all artists are supposed to belong to a company, companies must belong to a union; unions should be affiliated to guilds and the guilds, in turn, are to work in collaboration with regional federations and the federations then report to the MINAC.
A company can be made of at least three artistic and cultural associations engaged in the same activity (Chapter III, Section 10). A union is defined in this law as a group of two or more companies belonging to at least two sub-divisions in the same division engaged in the same activity or 4 artistic and cultural associations belonging to at least three sub-divisions engaged in the same activity. Unions are expected to operate at the divisional level and coordinate activities of companies. (Chapter III, Section 12)
Guilds are expected to coordinate the activities of unions and can be made up of two unions engaged in the same artistic and cultural activities belonging to at least two divisions of one region. Or a guild can consist of four companies engaged in the same activity operating in at least two regions.
Federations oversee guilds and according to Section 18 of the law, are in charge of laying down the standard by-laws that will guide the missions, organisation and functioning of the guilds. Federations are to exercise authority over the companies, unions and guilds associated with them and are to adhere to the by-laws of international organisations engaged in the same activities as them. Section 24 of the law states that only one federation can operate in each of the art or culture sectors.
To form a group of companies, unions, guilds or federations, applications must be submitted to the Minister of Arts & Culture who must respond within two months otherwise lack of response can be taken as approval. The application should be a document with the declarations of the group, which on submission will be paid for and a receipt tendered to acknowledge it has been received. The declaration presented to the Minister by the groups once signed and approved will last a period of 10 years, after which it must be renewed under conditions outlined by the law.
The monies paid for registration will be put into a Trust Account to support cultural policy according to Section 29 of the law. Section 31 of the law outlines the costs as 25,000 francs CFA for amateur associations, 50,000 francs CFA for professional associations, 75,000 francs CFA for authorised associations, 100,000 francs CFA for companies, 200,000 francs for unions, 400,000 francs CFA for guilds and 600,000 francs CFA for federations.
On 3rd June 2020, a delegation from SONACAM (Société Nationale Camerounaise de l'Art Musical) led by San Fan Thomas in his capacity as Chairman of the Board of Directors paid a visit to the Minister of Arts and Culture, Pierre Ismaël Bidoung Kpwatt. The main aim was to get clarity on certain aspects of the law. For most, this did not qualify as a consultative process and the law was not drafted using a participatory approach where the various actors in the creative industry had a say.
On 6th July 2020, a month later, another organisation for musicians called RACAM (Rassemblement des Artistes et Musiciens du Cameroun) and founded by the renowned Cameroonian musician Ndedi Eyango, held a separate meeting with the Minister of Arts & Culture – Bidoung Kpwatt where they laid out their grievances as outlined in this communique. According to reports from CRTV (Cameroon Radio Television) regarding the meeting, the RACAM group led by Eyango were 'satisfied' after discussions with the Minister.
Given these meetings and projected satisfaction with its direction, it is a wonder that most of the articles found within the law remain problematic.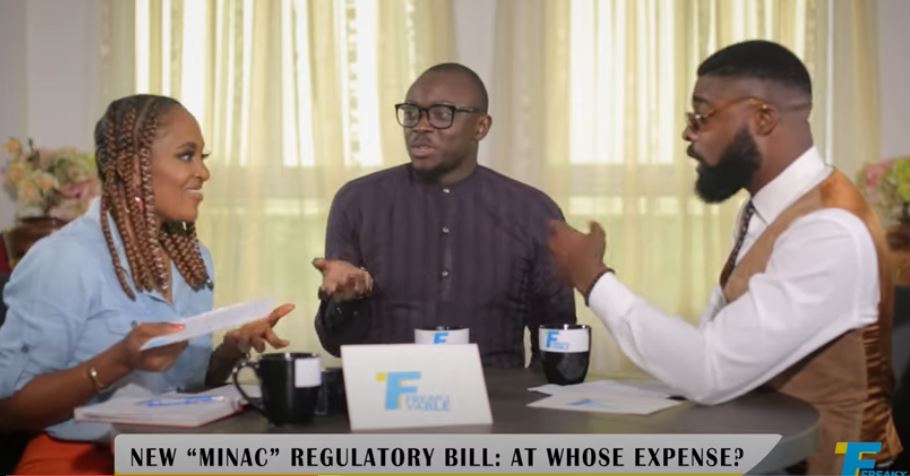 Why is the law so controversial?
The Freaky Table talk show on DecodedTV with Joan Ngomba moderating discussions with much dexterity ith Kwoh Elonge & Yana Max Jr as panellists. They broke down the complexities of the law and its repercussions on the arts, entertainment and film industry in Cameroon.
Stakeholders not consulted
According to one of the talk show hosts, Kwoh Elonge, the law was pitched to regulate artistic and cultural associations with the objective of promoting the creative/cultural industry; and to preserve national and universal heritage. But this is where it started failing its purpose.
"The spirit of the law did not have a participatory approach in which you have a consultation with a cross-section of these stakeholders, who will want to determine how this will benefit them. It is the same top-bottom, non-participatory, trickle-down, leader-knows-all approach that you have," said Kwoh.
He went further to criticize how the government put up a shambolic attempt at a show of inclusion of artists. According to him, the government tried to get some legitimacy by engaging obscure artists like Ateh Bazore and Nicolas Manga.
"You have to go through this mental gymnastics to actually bring yourself to that position of referring to them as artists because they have no name recognition. They stink of beggars which in the way they talk shows you that they have been fed by their slave masters and they are hoping that they will get more crumbs," added Kwoh.
He explained why the likes of Ama Pierrot and Jean-Pierre Essome who are renowned artists went up in arms. Kwoh explained that some of these artists do not know the articles of the law but it is enough for them to oppose it because they were not consulted.
Censorship of arts and culture
Yana Max Jr, who is a panellist on the Freaky Table show with Joan Ngomba and Kwoh Elonge, saw the law as a censorship tool. In his opinion, the government is increasingly becoming threatened by freedom of speech, with people bypassing mainstream media platforms to be vocal.
"It has been a trend and since 2014 when the government passed the anti-terrorism law effectively regulating the media; it came at a time when media houses were vocal against the government for the atrocities being committed in the Anglophone regions and in the Far North of Cameroon," said Yana.
"The timing is very suspicious because it is coming at a time when artists like Richard Bona and Charlotte Dipanda are vocal about the politics of the country. You then start to wonder why the government will be stepping into the culture and entertainment where they have done absolutely no investment," he mused.
Kwoh Elonge chimed in, adding that the whole process of getting the declaration for the establishment of companies, unions, guilds and federations is full of censorship because it is known what this will entail.
Yana affirmed that the bureaucratic process could easily become a tool to legalise corruption. He advanced the government is finding alternative means to regulate the media, arts and culture.
"It will be queues when you go to Yaoundé which is what Cameroonians are tired of when they go to government offices. They are making a bureaucratic structure of entertainment. Entertainment is supposed to be free and expressive," said Yana.
The talk show hosts agreed that the law was not thought through and the creative industry cannot strive under bureaucratic policies, measures and procedures; because it actually kills art which is supposed to be expressive.
The Freaky Table team acknowledged that the law had been around for a year and the artists have been apathetic particularly the young artists. They advanced that 'if you did not want to play politics, politics will play you'. The Freaky Table team put down this apathy to the fact that some artists were not yet affected by the law and this made them less indignant.
"As they were trying to not politicise their platforms, they lost out on a huge opportunity to speak out on something that affects them," concluded the Freaky Table team.
Kwoh highlighted that when we talk of artists, there is a tendency to focus on musicians but we must remember there are filmmakers, writers and dancers; among others.
"Anglophone filmmakers of the Cameroon Film Industry (CFI) are particularly opposed to this law," he said.
The law does not address the cultural differences as the Anglophone approach is very different from the Francophone way of doing business. This disregard for the bicultural nature of Cameroon was bemoaned by the CFI. Anglophones on their part saw this as part of their continuous marginalisation within the country which is majority Francophone.
The CFI Financial Secretary – Fred Che Takum is quoted as saying: "The law is unconstitutional because it raises a lot of conflict with other laws,"
"You cannot take a situation where the 1990 laws guaranteed that Associations be created at the grassroots level bringing it to the people. But this law is centralizing the whole thing back to the Minister of culture."
Delay tactics on embracing digitalisation?
Kwoh Elonge during the Freaky Table discourse said: "The thing with digitalisation is that most of the old gatekeepers become obsolete."
This could explain why there is a push to maintain the traditional way of doing business as usual because, with the digital age, it will not hold. Therefore, this is perceived as another way by the old gatekeepers to stay relevant to the detriment of growth by stifling it in deep bureaucratic processes.
Yana Max had this to say about gate-keeping during this Freaky Table episode looking into the MINAC law:
"We are in 2020, the digital age and what the government ought to be doing is regulating foreign domination instead of taxing our artists who have built this platform using their sweat and tears over the past 10 years. Then the government appears from nowhere to try to reap where they did not sow. That is actually predatory."
Vetting Events and Auditing of Finances
The government seldom provides support to cultural development activities and it has taken private initiatives to revive some of the sectors such as film and entertainment. Till date, there are no cinema halls in the country. Previously, there was Cinema Abbia in Yaoundé, Cinema Wouri in Douala, Cinema l'Empire in Bafoussam but the advent of broadcast satellite TV has killed the local entertainment and film environment.
This is because subscription services are more affordable compared to consuming locally produced content. The latter incurs high production costs as there are no grants to offset costs; making the price for consumers expensive. This law will inadvertently destroy what it set out to preserve because if local content production is made more difficult, it becomes cheaper and easier for the market to be flooded by foreign content. The government did not in the same spirit limit the importation of foreign content to give room for local content to thrive. That is a major reason why some consider this bill to be antithetical with the objectives the industry seeks to achieve.
There was anger from what Section 25 (I) of the law says. It requires that each federation informs the Minister in charge of Culture about the organisation of national or international cultural events, as well as the terms and conditions of their organisation.
In addition, Section 33 of the law requires that the by-laws of the companies, unions, guilds and federations have provisions to state origin and nature of resources, internal accounts auditing arrangements, including mechanisms for external accounts auditing by an approved auditing body and/or competent public services. This move has been seen as putting a noose around the operations of the creative sector by increasing regulation which is counterproductive.
Some are against the idea of artists paying any taxes to the government who have done next to nothing to help their industry, promote and invest in their growth. However, others advance that the government has no way of raising funds to do the needed if the artists themselves do not pay taxes on their earnings just like normal businesses are required to in order to generate revenue for the government.
Another cause for concern has been the fact that artists or those in the culture and arts sector must be authorised by the Minister of Arts & Culture before they can receive any funding within and outside of Cameroon. Making matters worse is the requirement by the MINAC law to get permission before collaborating with international bodies, artists or companies.
This means artists will need approval from MINAC before being able to go on tour, do a collaboration with international artists; a move which many see as a huge deterrent towards attracting international collaborations from renowned artists who can easily shift to other neighbouring countries for needed talent.
Limitation to Geographical Areas
The make-up of how companies, unions and guilds are supposed to work based on geographic location is problematic. This is elaborated above and is detailed in Chapter III, Sections 10 – 18 of the law. If you can only work in an area where your union is affiliated, this makes movement within the country for artistic ventures almost impossible due to the delays in obtaining the required permits and the bureaucratic bottlenecks involved.
In a nutshell, the law directs all final decisions and approvals on activities relating to cultural expression and the arts to the MINAC and the Minister of Arts & Culture. During the consultation process, the artists 'selected' to participate were not those who espouse political consciousness. They are not well known in Cameroon and it is believed they were paid to do this.
It is clear that the culture and creative industries require deregulation and not more regulation. Looking at it from a global perspective, governments around the world have realised that it is a better move to liberalise creative spaces rather than control them.
But a key question to ponder is why now? Was this law really necessary or was the needed action about implementing already existent laws? If the latter is the case, then some people have no reason to be worried about this new law because it might also not be implemented.
However, others wonder why the artists, musicians, filmmakers, writers, producers, dancers and all those in the arts and culture industry; have not come out in their numbers to denounce this law with action and not armchair activism as seen via social media postings from some of the artists. There is the perception that people are more worried about the artists than they are worried about themselves.
Industry events organised by the likes of CAMIFF (The Cameroon International Film Festival) and RECAN (National Artistic and Cultural Season Relaunch) present great opportunities to rally support and sign petitions against such a law. Casual observations of how the industry conducts itself indicate it is greatly fragmented as seen with RACAM operating separately from SONACAM. There is a great need for all parties, stakeholders involved in this space to come together and speak in one voice for changes they wish to see introduced to this law.
Will it be a little too late? Can the law be revoked or amended to meet the aspirations of those in the arts industry? Have you read it and what are your thoughts on this?
You can help support our work through the link below