Mgr. Alphonsus Aghaizu, the oldest monsignor in the south -east region of Nigeria says he supports in earnest the official launching of beatification rites in honour of all-time towering Cameroonian scholar, Professor Bernard Nsokika Fonlon.

The 95-year-old was Professor Fonlon's classmate at Bigard Seminary Enugu, Nigeria.
On August 20, 2020, Mgr. Alphonsus Aghaizu rolled out a document stating his humble contribution to the cause for the beatification of his late friend, Prof. Fonlon.

Writing from St. Paul's Catholic Parish, Douglas Road, Owerri, Nigeria, where he is in residence, Mgr. Aghaizu said Professor Fonlon was a rare human being.
Recounting their days at Begard Seminary Enugu, Aghaizu says he was due for subdiaconate ordination with Fonlon in 1953.
"But Fonlon was dropped the morning of the Ordination. He maintained his cool, and went with me as previously arranged for a month's holiday to Mgr. P. Meze's Parish at Maku," said Aghaizu.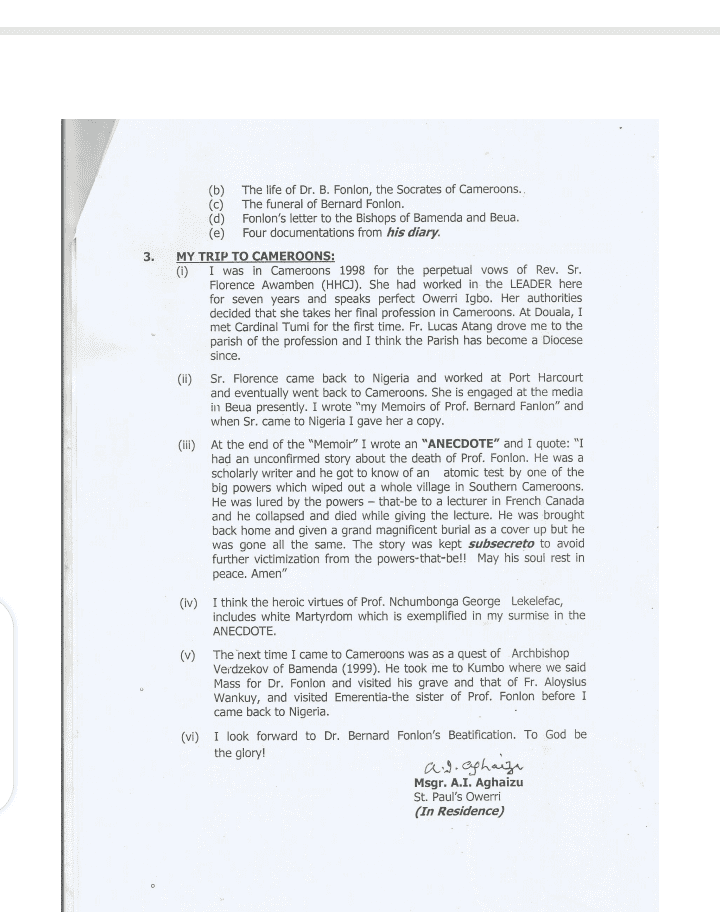 Unassuming as Fonlon was, Mgr. Aghaizu said the authorities arranged for him to teach at C.K.C. Onitsha, where he had indeed studied from 1942 to 1945.
The octogenarian priest recalls that at his ordination at Uli in 1954, Fonlon and three of his friends were in attendance from C.K.C Onitsha despite the fact that there was an ordination at Onitsha.

"After my month's tour of the stations in Uli Parish, I was due to return to Begard to obtain my faculties; and I decided to touch C.K.C. enroute. I did not go to the Father's House upstairs but to the teacher's quarters to stay with Fonlon. Next morning, he followed me to the Fathers Chapel and served my mass!
"The authorities were so impressed at this gesture that they gave him scholarship to study in Cork Ireland. He accepted it on the condition that he was given an option to come back and teach at C.K.C. or go back to Cameroons," said Mgr. Aghaizu.

The Nigerian prelate recalls that while at Cork, Fonlon's scholarship was later sponsored by CDC Cameroons and ex-students of Saint Joseph's College Sasse.
The death of Professor Fonlon in 1986
Monsignor Aghaizu says some time after Fonlon's demise, a parcel was sent to him containing: Dr. Bernard N. Fonlon (1924-1986) is now a legend by Prof. Lantum; The Life of Dr. B. Fonlon, the Socrates of Cameroons; the funeral of Bernard Fonlon; Fonlon's letter to the Bishops of Bamenda and Buea; and Four documentations from his diary.

Aghaizu said he authored his "Memoirs of Prof. Bernard Fonlon" in which he ends with the following anecdote: "I had an unconfirmed story about the death of Prof. Fonlon. He was a scholarly writer and he got to know of an atomic test by one of the big powers which wiped out a whole village in Southern Cameroons. He was lured by the powers – that-be to a lecturer in French Canada and he collapsed and died while giving the lecture. He was brought back home and given a grand magnificent burial as a cover up but he was gone all the same. The story was kept subsecreto to avoid further victimisation from the powers-that-be! May his soul rest in peace. Amen."

Aghaizu is of the opinion that the heroic virtues of Prof. Nchumbonga George Lekelefac, includes white Martyrdom which is exemplified in his surmise in the anecdote.

"The next time I came to Cameroons was as a quest of Archbishop Verdzekov of Bamenda in 1999. He took me to Kumbo where we said Mass for dr. Fonlon and visited his grave and that of Fr. Aloysius Wankuy, and visited Emerentia – the sister of Prof. Fonlon before I came back to Nigeria.
"I look forward to Dr. Bernard Fonlon's Beatification. To God be the glory!" said Monsignor A.I. Aghaizu.

Mimi Mefo Info recalls that Nchumbonga George Lekelefac had on August 7, 2020, urged the Most Reverend George Nkuo, Bishop of the Diocese of Kumbo and his College Of Consultors to consider kick starting the official procedure towards the Beatification of the Late Professor Doctor Bernard Nsokika Fonlon of Blessed Memory.

In an open letter penned in Münster, Germany, Nchumbonga said Fonlon should be accorded the title and honours of a Blessed to the Servant of God by the Holy See, a call Nigeria's 95-year-old Monsignor A.I. Aghaizu has now supported.
Mimi Mefo Info
You can help support our work through the link below