By Pamela D. Bongkiyung
On Monday, 15th February 2021, Cameroon lost one of its greatest medical geniuses and distinguished writers in Sir Professor Dr Daniel Lantum, who went to be with his ancestors aged 86yrs old.
The Cameroon society has been rocked by this death. To understand the greatness of this man, you had to have been in his presence, which would have left you with no doubt as to how remarkable he was, his medical career and research, particularly contributions not just in Cameroon but across Africa and the world are a loud witness and finally; reading his literary penmanship would convince you this was no ordinary man. Be it when he held a pen to write, opened his mouth to speak or donned his white coat to cure, he exuded an aura which is bestowed upon few individuals once in several generations.
Born on 13th September 1934, in Dzem Compound in Kimbo, the North West Region of Cameroon, Professor Lantum was a born medical practitioner who learnt how to use medicinal plants to treat people before he started going to secondary school. He was pushed to study medicine after contracting river blindness at a time when no cure for it existed. He resolved to go study medicine and find a way to treat himself and other sufferers of this neglected tropical disease.
He studied medicine at the University of Ibadan in Nigeria in the early 1960s. He would proceed to achieve a diploma in tropical medicine from the Liverpool School of Tropical Medicine in 1965, followed by a Masters and PhD in Public Health at the University of Tulane. Throughout his life, he earned prestigious academic awards and honorary degrees from institutions across the globe, recognising his contribution to public health. Sir Professor Dr Daniel Lantum as he insisted to be addressed, were titles that he took pride in and rightly so because they were well-earned.
Professor Lantum was an exceptional public health expert who held various posts in Nigeria, Southern Cameroons, Federal Republic of Cameroon and worked as a consultant for over 5 decades with various organs of international organisations such as the World Health Organisation, the World Bank among others.
A significant incident which he spoke of at the start of his medical career was when he was posted to the South West region, to head the Tiko C.D.C Hospital as Medical Officer. Prof Lantum describes his experience of curing a man suffering from cataracts. The hospital he managed had no ophthalmologist and so when cataracts patients came by, Prof Lantum said he used a herbal treatment to cure them and get their eyes to open. He had learnt this traditional medicine from a mbororo man who used the herbs to treat cataracts patients in the bushes of Dumbo, in Donga Mantung .
An advocate for integrating traditional medicine with conventional medicine, he started espousing the idea at a time when colonial dictates saw anything traditionally African as not good. In his words, he chose to give "a scientific dimension to what was called empirical knowledge." And so began his foray into integrating traditional medicine with the modern.
Prof Lantum worked extenuously his entire life to rally those in this area to work in collaboration and share knowledge. He worked with the renowned Ka-leitii of Kom, a notable herbalist who treated patients at the hilltop of Anyajua, though of late now. Ka-leitii in turn trained many other traditional medcine practitioners around the Kom area.
Prof Lantum was a proponent and champion of community health in various health areas. He supervised mental health clinics run by Dr Yong in Kom and and the other in Babungo, Ndop run by Mathias Tumenta. Both handled patients from across the country and sometimes from helpless Cameroonians abroad. The government even referred cases to them when other institutions failed.
Prof Dr Daniel Lantum deployed traditional doctors to work in the control of AIDs (Acquired Immune Deficiency Syndrome). He emphasised that AIDs was made up of a compound of illnesses and therefore their treatment approach was to target each individually. For example, he illustrated that they used mud for AIDs patients with rashes, which proved more effective in drying up the rash than modern prescribed medicine. He collaborated with the notable Dr Victor Anomah Ngu with whom he engaged on literary pursuits especially when it related to their dear friend Cameroon's own Socrates, Dr Bernard Nsokika Fonlon. He was a student of Dr Anomah Ngu in Ibadan and they would work on the pathology of various diseases together such as AIDs and elephantiasis.
Another essential highlight of Prof Daniel Lantum's career was that he introduced iodised salt to cure goitre in Cameroon and across Africa. He has written articles about this extensively, in reputed medical journals.
AUTHOR
Writing for medical journals was not all he was known for. A man of many talents, Prof Dr Daniel Lantum is a distinguished Anglophone literary powerhouse. A great storyteller, his talented hand penned 'Tales from Nso' and 'More Tales from Nso', which was one of 17 publications to be included in the African Reader's Library in 1969. 'Tales of Nso' was one of the first Cameroon Anglophone literary works to be published by the African Reader's Library Service.
He has written extensively about his closest friend Dr Bernard Fonlon as seen in his books titled: Dr Bernard Nsokika Fonlon, 1924-1986, is now a legend: funeral addresses, tributes, and eulogies published in 1988; Dr Bernard Nsokika Fonlon: An Intellectual in Politics (Gown and Throne) published in September 1992 among others.
A Cultural Pillar
Prof Lantum wore his Nso culture like a badge of honour. Each time he was awarded an honorary degree, meeting the president of the Republic of Cameroon or giving an address to a distinguished audience, his clothing spoke of his background. He will be remembered as the lion who roared the hills and hugged its mane proudly and unapologetically.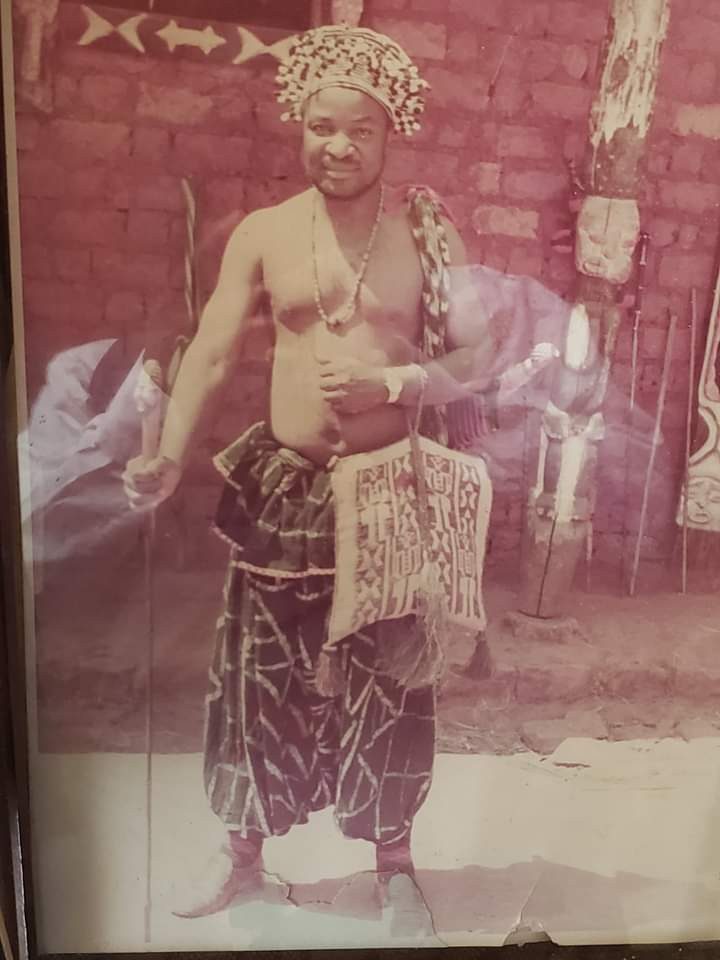 He was one of the founding members of the Nso History Society in the 1960s and championed Nso traditional practices including cultural display. His home in Bastos hosted the Nso Samba group in Yaoundé till date. He advocated for a change to how royal wives were treated especially following the passing of the Fon. The practice at the time demanded that women mourn under dehumanising conditions, a culture Prof Lantum found abhorrent and agitated, campaigned and advocated for the practice's abolition. It was not an easy feat to get Nwerong, the highest lawmaking body in Nso land to accept such changes in the Palace, but he did.
He wrote books on Nso culture and championed women's rights within that traditional setting. He has written a book about the current Fon of Nso, Sehm Mbinglo II, and on many aspects of the Nso culture.
For his contributions to the development of Nso and the propagation of Nso culture, he was honoured with the befitting title of Shufai Woo Bastos, a title which linked to the place where he lived most of his life in Yaoundé.
An Intellectual and Educator
It will be from the 1970s that Prof Lantum will officially take up the mantle to teach by lecturing on public health and traditional medicine at the University of Yaounde I, Faculty of Medicine and Biomedical Sciences (CUSS), University of Buea and as Vice-Chancellor of the Bamenda University of Science and Technology (BUST).
His students remember him fondly and talk about his jovial and smiling disposition as seen in the tributes that have been streaming in. Many have described him as a talented teacher, medical bulwark, intricate intellectual mind, genuine intellectual who inspired many generations of public health practitioners, a most distinguished professor of proven worth, an African pharmacopoeia; a surgeon, medical professor and literary guru par excellence.
Most recognised his luminary status and acknowledged he has left a great legacy behind that will live forever. Others cite his contribution to the law in Cameroon through his landmark matrimonial case (LANTUM V. LANTUM) that is often cited in family law in the Anglophone common law practice.
Another student recalls how as a freshman in the university, they enjoyed Prof Lantum's inspiration and encouraging ways. He says he still reads the books Prof Lantum shared to them while they were his students in CUSS.
This photo above shows Left-Right: late Kenjo Jumbam (celebrated Anglophone writer), late Archbishop Paul Verdzekov, late Dr Bernard Nsokika Fonlon, Cardinal Christian Tumi (then Fr Tumi) and now of late, Professor/Dr Daniel Noni Lantum. Of all five only the Cardinal is still alive, a photo of a generation of individuals who sowed into their country and hoped it would produce well-rounded, intellectually buoyant and civic-duty conscious citizens of tomorrow.
A candle has been blown by the wind and Cameroon has lost a scientific genius, great writer and public health pioneer on many fronts. Prof Lantum has left an unsurpassed legacy for the whole of Cameroon. His work on traditional medicine is unrivalled, laying a framework that future generations can work on and improve. He will always be remembered as a medical bulwark, a cultural architect and an indomitable optimist on using hard work, dedication to achieving goals to move the country ahead.
Most acknowledged that he has certainly joined some of Cameroon's other greats such as Dr Bernard Fonlon, Dr Anomah Ngu, fellow writers Professors Bole Butake, Bate Besong, Shadrach Ambanasom, Anne Tanyi Tang and hosts of others within the Doctorate rank. Prof Lantum was reminded to inform the others on the woes going on in the land they left behind. Tell them that some of their seeds have come to the limelight while others, particularly the younger literary generation is slowly but surely coming to the spotlight. (read one of the comments)
☘️☘️Your work is done and your legacy is inked in the history books through your indefatigable writings. Fare thee well Sir Professor Doctor Daniel Noni Lantum. May you rest in perfect peace! ☘️☘️
You can help support our work through the link below