About 500 households in Southwest Regional capital Buea will suffer water crisis in the coming days after Saturday's floods, which destroyed a water catchment and damaged water supply pipes, the United Nations High Commission for Refugees has warned.
In a tweet on Monday, March 20, the organisation said more than 150 households have been affected by the floods that killed at least two people.
A team of government and municipal authorities went out on Monday morning to assess and quantify the material damage caused by the floods.
The disaster happened after heavy rains in the afternoon of Saturday, March 18, triggered heavy runoffs and mudslide from Mount Cameroon that swept through houses in Bova village on the outskirts of Buea and Buea Town neighborhood.
Two people were confirmed dead and several others injured and hospitalised.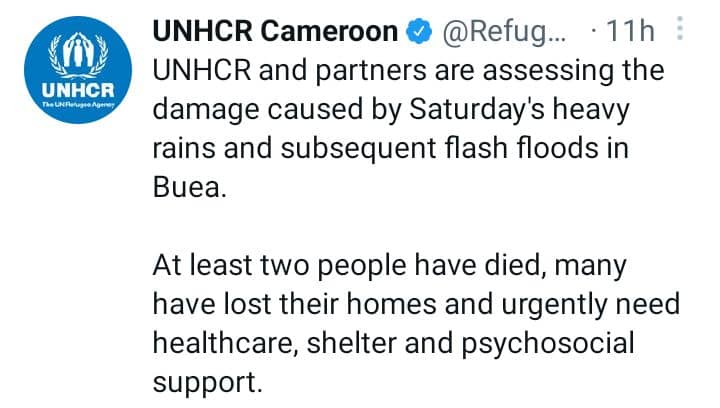 Flood waters mixed with dark mud destroyed many houses and much property, including six vehicles, said the Mayor of Buea, David Mafany Namange.
On Sunday morning, he went out with the Divisional Officer for Buea, Abba Abdourahman, to console victims who were receiving treatment at local hospitals.
He promised free healthcare for them and said the Municipal Council will be stricter in granting building permits henceforth.
The floods were largely blamed on blocked gutters caused by haphazard building and construction.
Mimi Mefo Info
You can help support our work through the link below