A coalition of over 10 groups fighting for the restoration of the statehood of the former Southern Cameroons has once more addressed the Anglophone crisis with regards to peace talks.
Known as the Ambazonia Coalition Team, ACT, the coalition has I'm a letter appreciated the call by UN Secretary General Antonio Guterres on March 24 for a worldwide ceasefire.
In this light, the ACT "calls the UN to order president Paul Biya of La Republic du Cameroun to immediately pull its army of occupation out of Ambazonia, end its genocidal war so that live-saving corridors for humanitarian assistance desperately needed are opened in our war ravaged villages."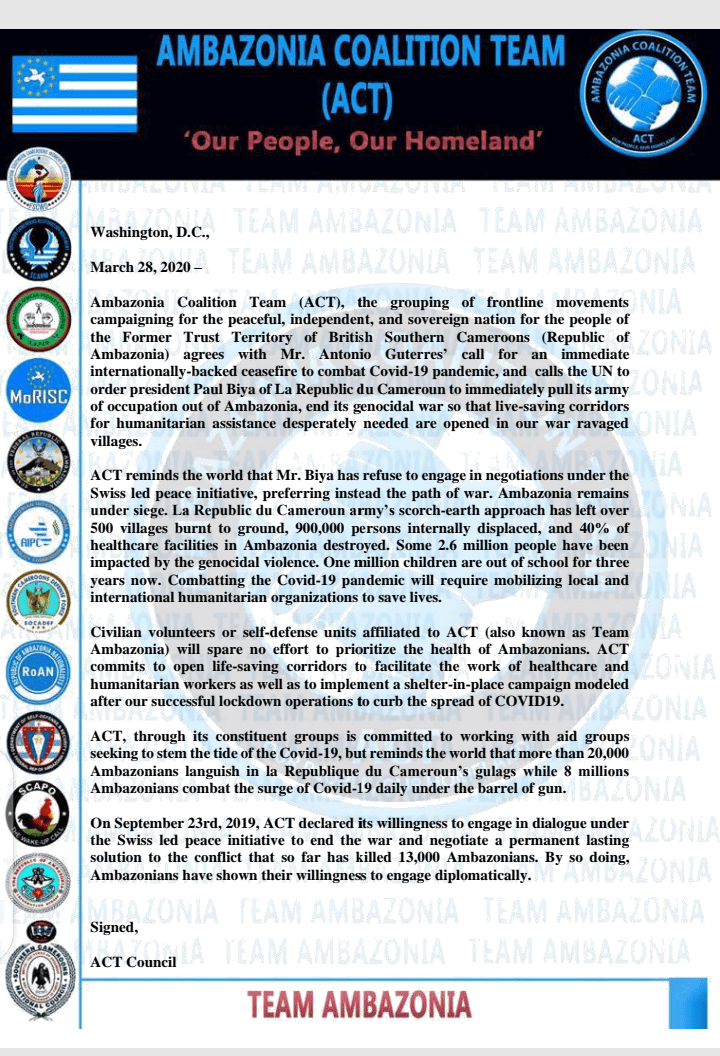 Stating that the Cameroon government has denied to heed to calls for ceasefire, ACT says " La Republic du Cameroun army's scorch-earth approach has left over 500 villages burnt to ground, 900,000 persons internally displaced, and 40% of healthcare facilities in Ambazonia destroyed."
"Some 2.6 million people have been impacted by the genocidal violence. One million children are out of school for three years now. Combatting the Covid-19 pandemic will require mobilizing local and international humanitarian organizations to save lives" it adds.
"Through its constituent groups" the coalition says it "is committed to working with aid groups seeking to stem the tide of the Covid-19, but reminds the world that more than 20,000
Ambazonians languish in la Republique du Cameroun's gulags while 8 millions Ambazonians combat the surge of Covid-19 daily under the barrel of gun.
"On September 23rd 2019, ACT recalls that it had "declared its willingness to engage in dialogue under the Swiss led peace initiative to end the war and negotiate a permanent lasting solution to the conflict that so far has killed 13,000 Ambazonians."
The Cameroon government is yet to respond to Antonio Guterres' call for a ceasefire or that of groups fighting government troops in the Anglophone region.
MMI
You can help support our work through the link below