By Soulemanu Buba
The Mayor of Andek Council in Momo Division, North West Region of Cameroon, Ubangoh Helly has refused to stay mute over the killing of two female members of his municipality.
They were killed by government forces on the 19 of September, 2022.
Mrs Abazi Suzan, 49, who was a bar owner from Andek town and Mrs Etoh Basheba, 47, whom the official statement from the mayor described as "a gateaux seller" from Akutah were gunned down by soldiers.
"The two women were shot to death by some reckless military personnel. The action was reckless," said the mayor Ubangoh, who continued that: "because the personnel who were not on any official assignment acted on their own accord."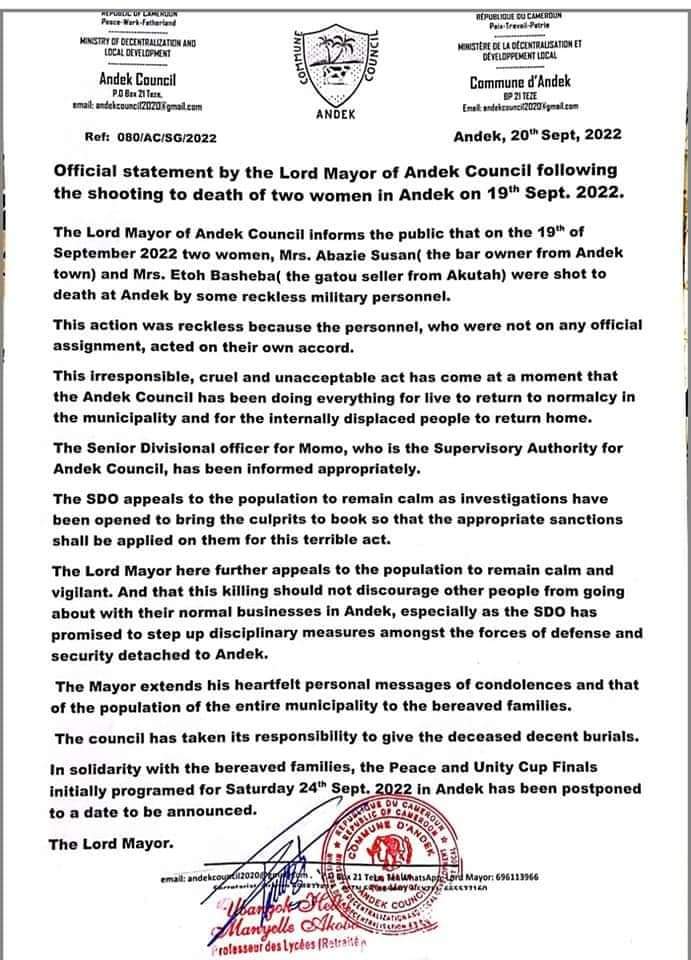 "This irresponsible, cruel and unacceptable act has come at the time that Andek Council has been doing everything for life to return to normalcy and for its Internally Displaced people to return home," he went on.
Following the gory incident, the Mayor also postponed the finals of the Peace and Unity Cup initially stated for Saturday 24 September to an unannounced future date.
Cameroon Military Spokesperson says perpetrators 'arrested'
The spokesperson of the Ministry of Defense, Atonfack Guemo Cyrille Serge in a Press Release signed Wednesday September 21 announced the arrest of three soldiers accused of killing two women in Andek.
According to the release, the three soldiers from the Koutaba Airborne Troops Battalion also known as (BTAP) behind the killings were arrested, disarmed and taken to the Mbengwi Gendarmerie.
However, he failed to name the said perpetrators.
Why is the Mayor of Bali Nyonga mute over killings?
In a similar incident, two ladies were gunned down in a raid by soldiers in Bali last week.
Sons and daughters of Bali Nyonga, one of the hardest hit areas in the Anglophone armed conflict have frowned at Mayor Wandum Ernest for ignoring the plight of his people.
Though many say his election as Mayor was questionable void of any real democratic process, he is known by the administration as the mayor of the municipality and should act accordingly.
They had been expecting him to say a word after a widow in her 70s and a nursing mother were shot and killed by those witnesses say were soldiers at the Sang and Njenka Haussa neighborhoods in Bali Nyonga.
"We expected the mayor to strongly condemn the killings but since he belongs to the ruling Cameroon Peoples Democratic Movement, CPDM political party, he has not said a word as usual, a typical way of doing things by CPDM party officials," said Bah Nyongbella, a native of Bali.
Civilians especially women are the most affected persons in the war ravaging the two Anglophone regions of Cameroon.
Many have been raped, others killed, displaced while good number have gone missing.
You can help support our work through the link below