U.S. capital, Washington DC will host an international conference on the war in Anglophone Cameroon.Described as "a broad-based consultative process with Southern Cameroonians", the coalition for dialogue and negotiations organizing the conference says it is to focus "on the escalating armed conflict" in Cameroon's North West and South West Regions.This, the coalition states, comes after consultations that "have involved Southern Cameroonian professionals of all walks of life, civil society leaders, all leaders of "restorationist" (separatist) groups, Southern Cameroons political leaders, activists, religious and traditional leaders, members of parliament, businessmen and businesswomen, youth leaders, academics, media personalities and members of the diaspora.""Consultations have also involved multilateral institutions, members of the diplomatic community and international non-governmental organizations," it adds.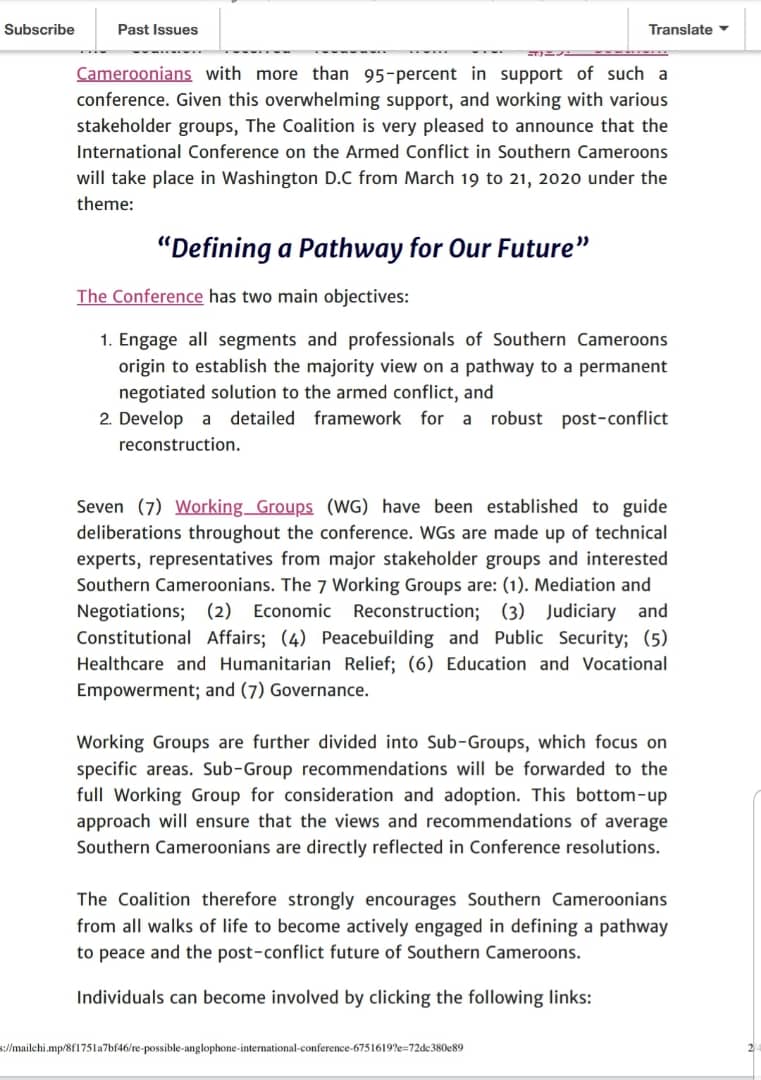 The two main objectives of the conference are to engage all segments and professionals of Southern Cameroons origin to establish the majority view on a pathway to a permanent negotiated solution to the armed conflict and
develop a detailed framework for a robust post-conflict reconstruction.Ahead of the session, the organizers note that Seven Working Groups have been established to guide deliberations throughout the conference.
The groups "are made up of technical experts, representatives from major stakeholder groups and interested Southern Cameroonians.""Working Groups are further divided into Sub-Groups, which focus on specific areas. Sub-Group recommendations will be forwarded to the full Working Group for consideration and adoption. This bottom-up approach will ensure that the views and recommendations of average
Southern Cameroonians are directly reflected in the Conference's resolution.
The Coalition for Dialogue and Negotiations is an international non-governmental organization with the specific goal of facilitating dialogue and negotiations towards ending the war in Southern Cameroons.The conference comes as one of many other gatherings to seek a way forward following the ongoing armed conflict in Cameroon's Anglophone regions.
You can help support our work through the link below