By David Atangana

The government of Cameroon has rejected a third party mediation to resolve the armed separatist conflict in Cameroon's Anglophone Regions.


The chief envoy on the Swiss-Led Mediation, Ambassador Gunther Bachler informed the Ambazonia Coalition Team (ACT) that it is ending its efforts toward brokering peace in the nearly six-year-long war in Southern Cameroons.


The position of the government comes three years after the process was initiated with both parties allegedly committed to it.


President Paul Biya reportedly told the President of Swiss confederation Ignazio Cassis in a conversation that the current military option 'will do.'


A coalition of separatist groups-Ambazonia Coalition Team, made the revelation after a meeting with the Swiss envoy September 13, 2022.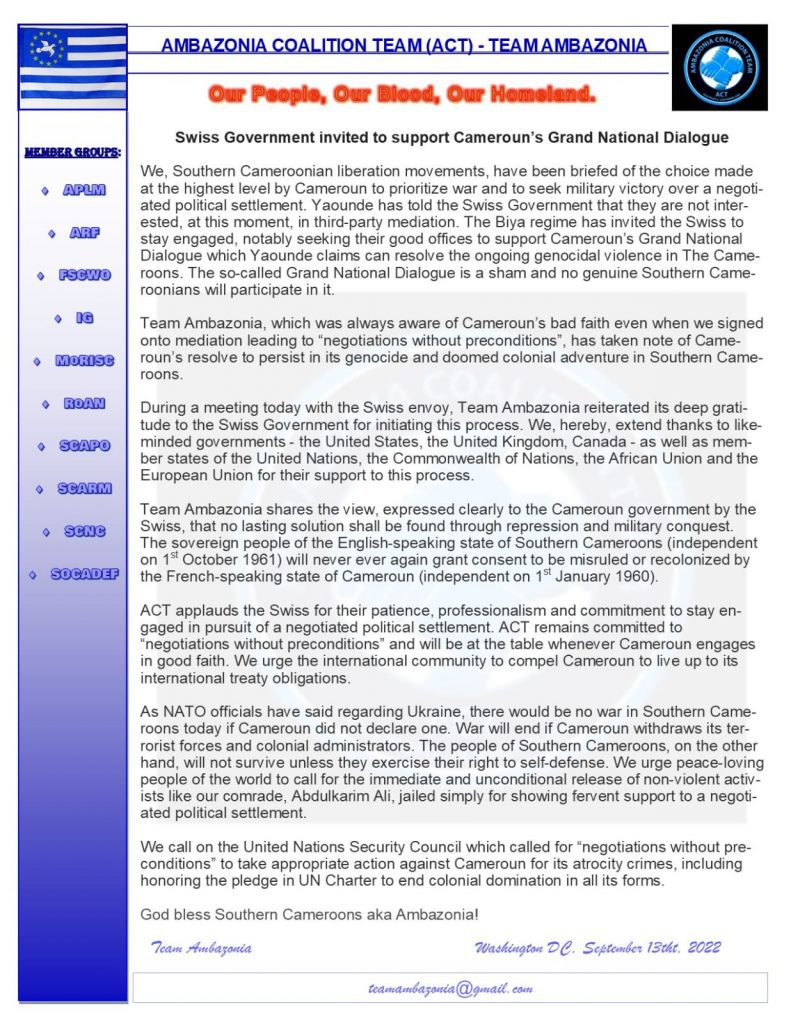 "We the Southern Cameroonian Liberation Movement, have been briefed of the choice made at the highest level by Cameroon to prioritize war and to seek military victory over a negotiated settlement," a statement from ACT said.


The statement further revealed that "Yaounde has told the Swiss government that they are not interested at this moment in third party mediation."


While snubbing any negotiations over war with separatists, the government of Cameroon reportedly called on the Swiss government to rather support the major national dialogue held in Yaounde in 2019.


"The Biya regime has invited the Swiss to stay engaged, notably seeking their good offices to support Cameroun's major national dialogue which Yaounde claims can resolve the ongoing genocidal violence in The Cameroons," the separatists coalition continued adding that: "The so called Grand National Dialogue is a sham and no genuine Southern Cameroonian will participate in it."


Noting that the position of Cameroun was obvious, ACT said "Team Ambazonia which was always aware of Cameroun's bad faith even when we signed into mediation leading to negotiations without preconditions has taken note of Cameroun's resolve to persist in it's genocide and doomed colonial adventure in Southern Cameroons."


Expressing disappointment over government's position, separatists have called on the international community supporting the process to "take appropriate against Cameroun for it's atrocity crimes."


The UN, UK, Canada, Germany, Belgium, EU and others that have been supportive of process are yet to react.


This latest development comes less than two weeks after Cameroon deployed special forces to the restive Anglophone regions to crush armed separatists whom she consider as terrorists.


Human rights reports say the conflict has led to the death of atleast 3,500 people, 712,000 internally displaced, 80,000 refugees, 2.2million in need of humanitarian aid with hundreds of villages including hospitals and schools burnt down.

————————————-
The Mimi Mefo Info Team, (MMI) appreciates all your constant support.

We are driven by the fact that you remain our only source of inspiration, as we continue to gather, write and publish stories without fear or favour.

These are, however, very trying times for several journalists, especially for MMI whose reporters have to brave all the odds to work remotely for fear of reprisal attacks.

That's why we continue to ask for your constant support.

*How to support us!*

*Please share our website link with friends and loved ones daily


*You can also support our dynamic team working day in and day out to keep you up to date, with any amount.

Use the following payment methods:

PayPal: contact@mimimefoinfos.com

Mobile money: +237679135573

Bank Transfer: Account name: MIMI MEFO INFO LTD
IBAN: GB49TCCL04140456360181
SWIFT/BIC: TCCLGB3L
Intermediary bank SWIFT: BARCGB22 (only use if required by sender bank)*
You can help support our work through the link below