Catholic schools within Douala ecclesiastical province will not resume next Monday June 1 as stated by the government.
In a letter addressed to the Diocese, Archbishop Samuel Kleda of the Metropolitan Diocese of Douala says "in view of the rapid spread of coronavirus in our country and our obligation to protect the health of all, we have decided after discussing with Bishops that of the ecclesiastical province to postpone the school reopening originally planed for Monday June 1st to later date that will be communicated in due course."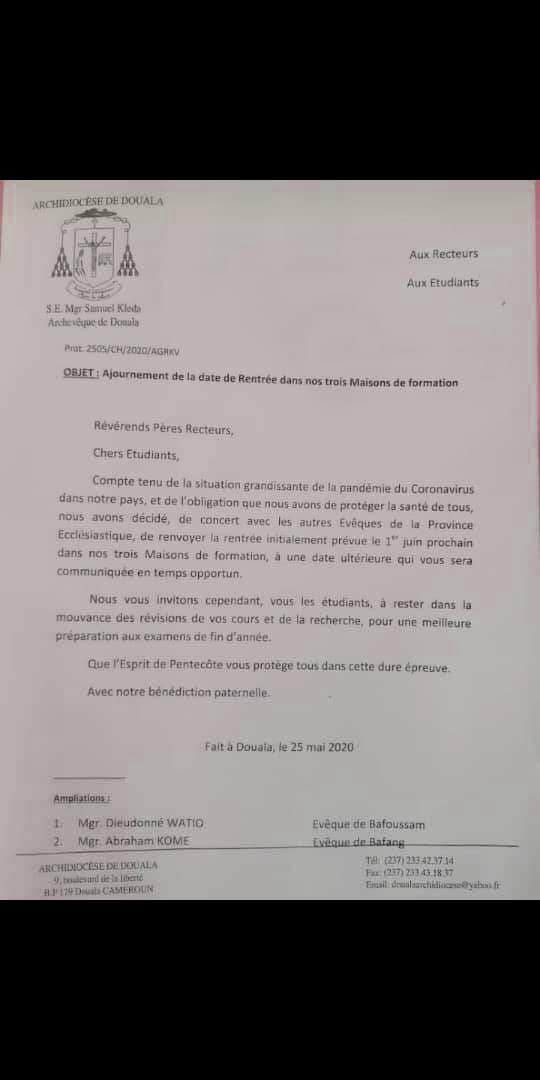 In the letter dated May 25th 2020, the Archbishop calls on students and pupils to remain studious, revising their lessons and carrying out research in view of end of year examination.
The decision of Archbishop Samuel Kleda contradicts government's move to reopen schools next Monday for students in examination classes.
Archbishop Samuel Kleda should be noted has produced a traditional medicine that he says has cured more than 1500 COVID-19 patients.
The decision of the Archbishop falls in line with some teachers' trade unions in Cameroon that think this is not the right time to resume school in Cameroon with more than 5000 COVID-19 cases. They argue that children of school going age are adventurous and will not respect COVID-19 preventive measures while in school.
Government has not reacted to the decision of the Archbishop yet.
Mimi Mefo Info.
You can help support our work through the link below