On a sunny day in Buea, the capital of the South West Region of Cameroon, I met with Ernest Claude Ewoty Njie, a Cameroonian Baker and CEO of "ENEC Croissance".
His was a story of innovation in the face of mounting challenges, created by the Russian-Ukraine conflict.
While many have spent time denouncing the unfavourable impact of the conflict on rising prices of flour, he has resorted to home-grown solutions.
On his shelves, he had displayed pastries such as biscuits, cakes, chin-chin and many Others. All of them had been made from cassava flour.
As cassava is one of the most common locally produced tuber crops, it means Ewoty Njie is likely to get this at a much cheaper rate compared to the imported wheat flour. This has been acknowledged by many as inspiring and worthy of emulation.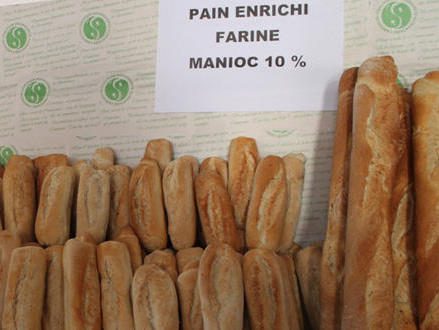 Ewoty's experience tells just part of the story all sunshine across the different businesses that I visited.
Many Cameroonians have been at the wrong end of the price scale, following a skyrocketing of the price of wheat flour since the spike of the Russia-Ukrainian conflict.
Russia is considered Cameroon's leading wheat supplier as Cameroon gets approximately 35% of their yearly volume from Russia.
A bag of 50 kg which originally cost 19000cfa has increased by 5000cfa and is now sold at 24000cfa.
This has impacted on the price of wheat products such as bread where a 200gram loaf which originally cost 125cfa is now sold at 150cfa.
According to "Business Cameroon" millers in the country initially proposed an increase of 3000cfa per sack of 50 kg but the government finally settled for a 5000cfa increase after a meeting with Cameroon millers on March 15.

Buea-based Bakers see this increase in price as a stumbling block to their business. Talking to Benoit, the manager of a bakery in Buea, he had the following to say.

"It has been very challenging for us. Originally, we used 200gram of flour to produce a loaf of bread which cost 125cfa, now that the price of a loaf bread has increased to 150cfa, we are still forced by the government to maintain the 200gram of flour per loaf of bread."
Benoit continued that "We have workers to pay, we need to make profit, how are we going to cope? We have pleaded with the government to grant us subvention but still, nothing has been done about it."

The increase in the price of flour has not only affected Bakers but local puff-puff sellers who depend on their business as the only income source for their livelihood as well.

"I used to buy a bag of flour for 18000cfa, but it's no longer the case. This puff-puff business is what I use to feed my family and send my children to school. So, the government has to do something about it." says Miranda, a puff-puff seller.

With such challenges, it would appear that the dark clouds of price increases can only be dissipated by home-grown strategies that does not involve passing on the buck to the final consumer.
When products such as cassava appear to be a solution, there is potential that the sunshine could easily spread across to every local business relying on flour for their production.
Mimi Mefo Info
You can help support our work through the link below