By Tata Mbunwe
Students of the University of Buea's Department of Food Science and Technology want to solve the problem of post-harvest food loss in Cameroon, as well as break the chain of unemployment in the country upon their graduation from school.
Nchanji Laurentine, Minette Nabila and several other young students have started using their entrepreneurship lessons by processing and packaging perishable foodstuffs into finish products, to curb post-harvest food loss and create jobs for themselves and other Cameroonians.
The students are unlike regular students of the university's Faculty of Agriculture and Veterinary Medicine, who mostly engaged only in growing food crops and tending animals.
Rather, these students have learned the science of food processing and want to turn it into an entrepreneurial venture.
According to UN's Food and Agriculture Organization (FAO) estimates, yearly post-harvest food loss in Sub-Saharan African countries amounts to 4 billion US dollars.
Most of this food is lost because people cannot preserve perishable goods like vegetables and fruits.
But Laurentine and her mates want to contribute their quota to limiting this problem.
They were among several youths who gathered at a recently organised youth agribusiness festival in Buea, Southwest Region, on February 7 to exhibit the new products they will be introducing into the market.
One of them is white wine made from pineapple. These students said they engaged in this creative venture to reduce the wastage of pineapple, much of which usually ends up in the trash because of its perishability.
"In order to preserve pineapple and make it more valuable, we decided to come up with this wine – it's white wine – which is rich in antioxidants and other nutrients," said Nchanji Laurentine.
Pineapple is not the only perishable they are transforming into a more long lasting form. They also process peppers, transform soybean to yoghurt, among others.
"Cooking peppers are good and we decided to produce them because they help to increase the shelf life of our local peppers. We discovered that during the rainy season we lose a lot of pepper. So we are trying to reduce post-harvest losses," the students said.
"We want to market our department. The department's purpose is to solve food challenges, that is why we came up with a lot of ideas from our lectures to come up with products like this because we discovered that most at times we don't have some products round the year because the are seasonal and not available at some point in time. Like pepper. If you go to the market you'll get two peppers for 50 francs whereas if we come up with this it's going to be available all the time. It lasts longer and it's healthier," they added.
This kind of initiative is rare to find in Cameroonian universities, which have often been criticised for not teaching students how to meet job market needs.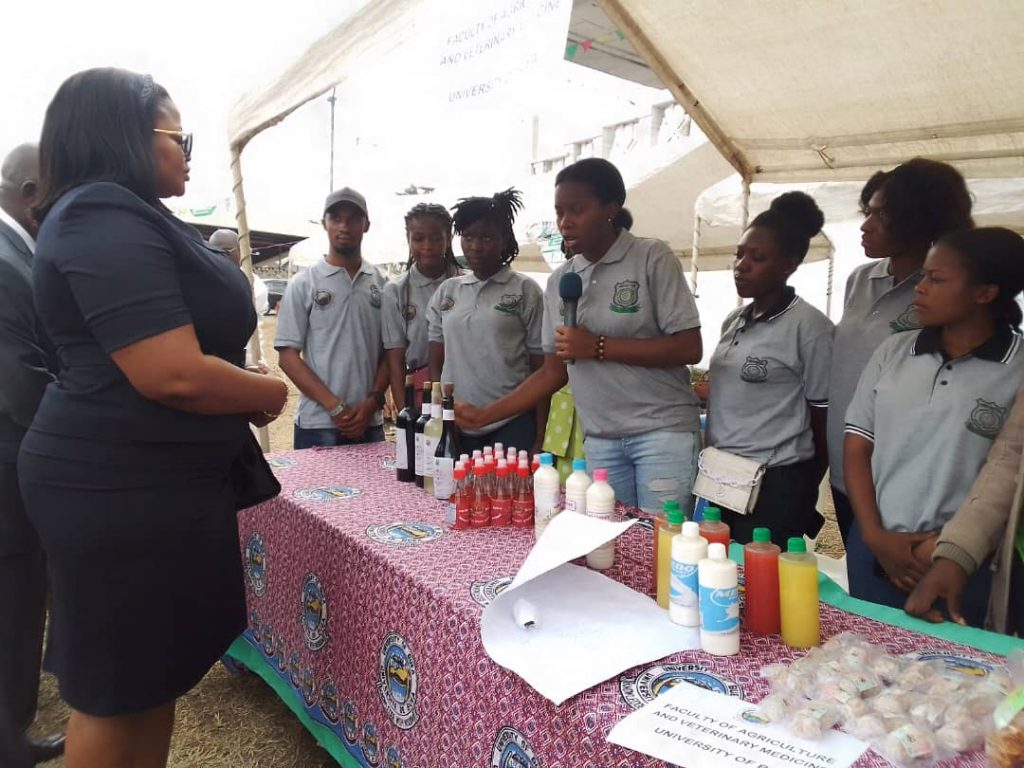 One of the pleas made by a conglomerate of Cameroonian trade unions and civil society organisations in a release last week was that the government should review the country's education system and tailor it to current job market needs.
Meanwhile Government on its part has been advocating for youths to become their own employers and one of the ways of doing this is by engaging in agriculture.
"Agriculture remains the oxygen of Cameroon's economy. Cameroon remains an agrarian society and it cannot be an agrarian society without people practicing agriculture. Young people knew that agriculture was meant for people who have not gone to school or for the ageing. But we are now making them to understand that it was a wrong perception," said Orock Thomas, Regional Delegate of the Ministry of Employment and Vocational Training for the Southwest Region.
He said avenues like the agribusiness festival organised in Buea recently are part of an enabling environment the Government is creating for youths to excel in agricultural entrepreneurship.
Mimi Mefo Info
You can help support our work through the link below