From March 6th 2020 when the first coronavirus case was diagnosed in Yaounde Cameroon, the number of infected persons has been on a steady increase each day. With the entire country now affected by the dreaded pandemic, the seriousness with which Cameroonians are respecting coronavirus preventive measures remains questionable just as government's handling of the health crisis.
Maintaining physical distancing is not a reality. In Markets in Douala, the economic capital and other places in the country, traders continue to cram in small surface areas to trade and end a living.
"My shed is just linked to that of my neighbor in the market. It is not easy for us to maintain physical distance. Customers too crowd the place at all times. I think it is because police does not maintain order" a woman selling groundnuts at Douala Central market tells Mimi Mefo Info.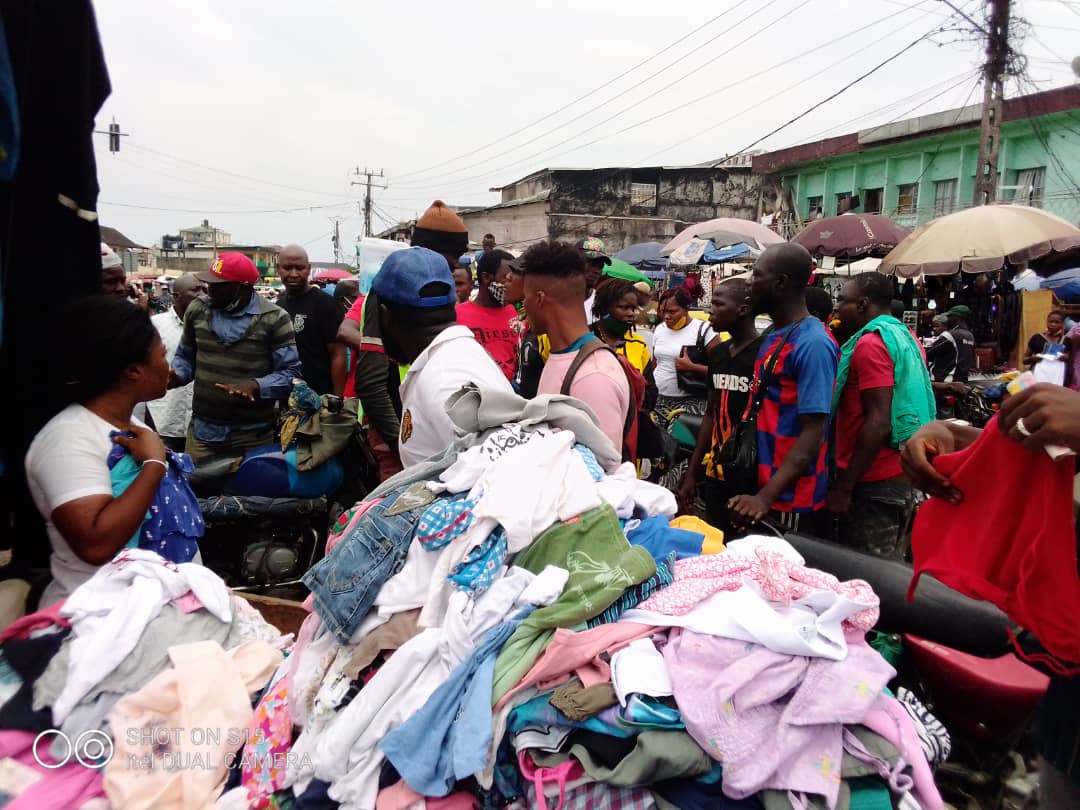 Other traders question if by announcing the respect of physical distancing to prevent the spread of coronavirus government equally increased the size of the markets.
The wearing of face masks is another COVID-19 preventive measure that is grossly violated across the country. After government eased some measures in the month of April to maintain the economy of the country, many since then have erroneously assumed that coronavirus has been defeated.
Thompson Njibeteh in a drinking spot at Newbell quarter in Douala says "I wear the face mask when I leave the house but while drinking as I am doing now, it is impossible to wear the mask".
Does coronavirus disease really exist in Cameroon? This is a question that still lingers in the minds of some Cameroonians three months after the first case was detected in the country. This brings in the problem of denial.
Simon Ndeh in Bamenda thinks "the mere fact that some people still think COVID-19 is not a reality is a major setback to the fight against the virus. Those who hold this thoughts definitely don't respect any of the preventive measures"
Medical practitioners treating COVID-19 patients and the government have been calling for early diagnosis to ensure treatment. Ironically, many Cameroonians are not interested in knowing their COVID-19 status.
"I am not comfortable knowing my COVID-19 status. This is because if it is positive I will be isolated and stigmatised in the community by family members and friends" a lady confesses on the bases of anonymity, stressing that even at death, corpses of people who die of coronavirus are "malhandled" by medical and military men that ensure the burial.
Despite fervent condemnation by some teachers' trade unions in Cameroon for government to postpone the date for school resumption, government says studies will resume for examination classes Monday June 1st.
According to Afuh Stephens, a trade unionist and teacher in Bamenda speaking to Canal 2 TV, "children of school going age are very adventurous and will not respect coronavirus preventive measures while in school. This means the number of coronavirus cases might continue to increase".
In a related view, the Archbishop of the Metropolitan diocese of Douala says catholic schools under his command will not resume next Monday June 1. Archbishop Samuel Kleda writes, "with the increasing number of coronavirus cases in Cameroon, we have the obligation to protect everyone. The day for school resumption has therefore been postponed to a later date that will be communicated in due course."
As of May 29th 2020, Cameroon counts over 5000 COVID-19 cases with 177 deaths, figures, observers say are bound to rise if coronavirus preventive measures are not taken seriously.
Mimi Mefo Info
You can help support our work through the link below