Cameroon's ministry of defense has confirmed that some five of the country's nationals have been arrested in Togo.
In a statement on the arrest, Captain Atonfack Guemo confirms that they were caught by Togolese Judicial police when one of them "allegedly tried, using a firearm, to snatch a heavy-duty vehicle owned by a Togolese businessman."
The group of five, he reveals, was led by "gang leader, Ntanga Mogo Clément Didier alias "Tony"… a dangerous convicted gang member, a multi-recidivist, sentenced several times to prison terms, and currently wanted by the Judicial Police Directorate in Yaoundé, which has registered several complaints of citizens abused by him."
Captain Atonfack says three members of Cameroon's forces of law and order are presumed to have contributed or directly participated in the incriminating acts.
The three, he says, are Private First Class Essimbi, previously serving at the Headquarters Brigade; Sergeant Oumarou Abou Fadil, previously working at the Headquarters Brigade, declared deserter since 23 March 2020 and Officer Ewoundjo Elle Serges Hubert previously serving in the National Navy.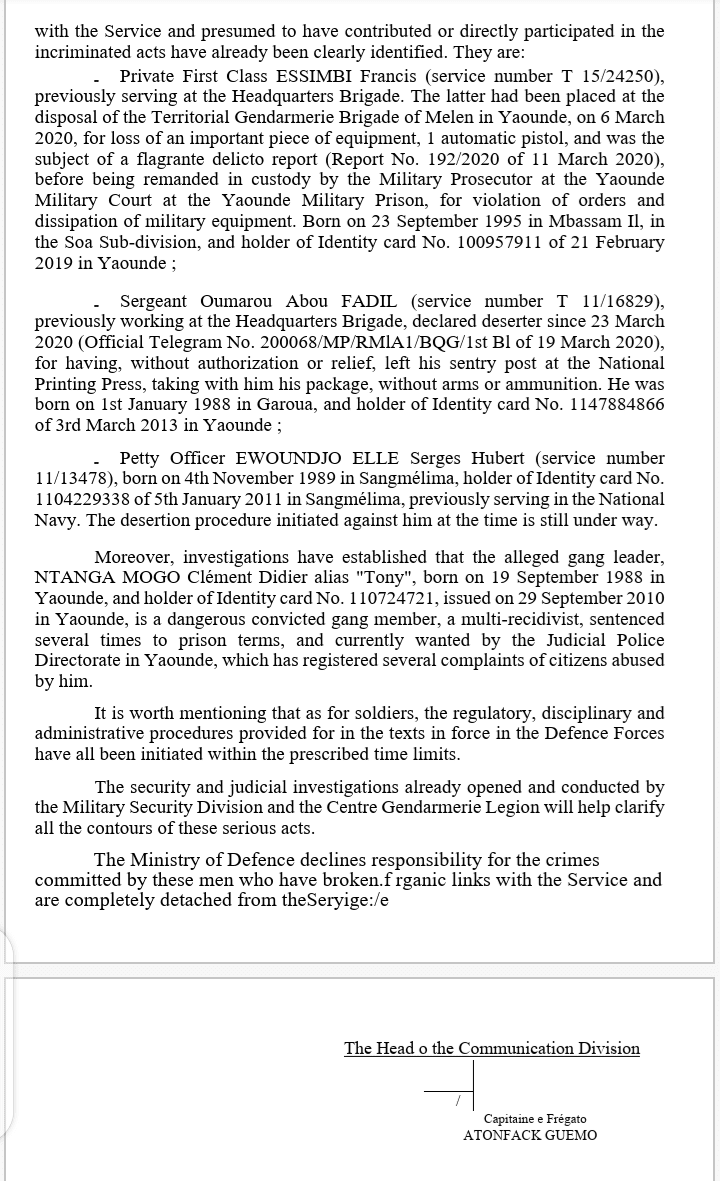 Regarding the soldiers, the Captain says "regulatory, disciplinary and administrative procedures provided for in the texts in force in the Defence Forces have all been initiated within the prescribed time limits."
The Ministry of Defence, he adds, "declines responsibility for the crimes committed by these men who have broken organic links with the Service and are completely detached from the service."
It is not clear yet whether the gang will be tried in Togo or will be brought back home.
Mimi Mefo Info
You can help support our work through the link below