The government of cameroon has announced plans to transform some social housing facilities into centre to quarantine Coronavirus patients, as confirmed cases scales in a geometric proportion across the country.
On Monday march 29 in Yaounde, officials of the Ministry of public health in a press briefing said 200 Coronavirus patients will be moved to the social housing facility in the Olembe neighborhood of the city, before the end of the week .
They revealed that beds and other logistics have been reinforced at the site in Yaounde
In the same line, 650 beds have been ordered for the social houses in the Yassa Neighborhood of the city of Douala.
The government says the houses in Yassa will be used to quarantine COVID 19 cases detected in Douala, while Olembe is used for Yaounde.
Note that the over 500 social housing in Douala have been abandoned in the bush several years after they were constructed.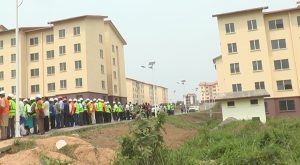 The government of Cameroon says the use of social housing facilities is in line with the decision to decentralise the war against COVID 19.
Such initiatives are also previewed for the West and South West regions where Coronavirus Cases have been detected.
Experts have maintained that the country lacks the logistical and infrastructural facilities to handle large cases of COVID 19
MMI
You can help support our work through the link below