By Tata Mbunwe
The government of Cameroon, through the Ministry of External Relations (MINREX), has digitised the process of legalising documents, and has now set the fee at FCFA 20,000 per document.
The new rules guiding the process of authenticating documents were published on December 29, 2022, and became effective as from January 1, 2023, stated Felix Mbayu, Minister Delegate to the Ministry of External Relations, who signed the document.
Speaking on behalf of MINREX, Minister Mbayu said the digitisation measure aims to curb the falsification of State documents, as a new sticker will be attached on newly authenticated documents.
"The main objective of this measure is, inter alia, to secure State documents submitted by applicants, and make them more genuine and credible to our foreign partners, as well as to speed up the processing of said documents," said Minister Mbayu in the release.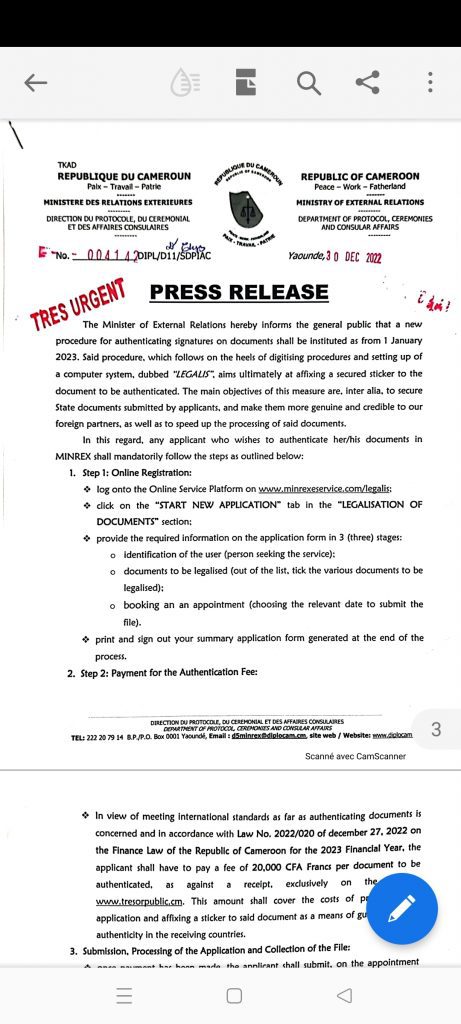 Concerning the authentication fee, he said the "applicant shall have to pay a fee of 20,000 CFA francs per document to be authenticated, as against a receipt," adding that the fee will cover the processing cost of the application and the authentication sticker that will be placed on the document.
The online application process will warrant applicants to fill an application form on the MINREX website, during which they will indicate the date they are going to submit their documents for authentication, before paying the authentication fee.
"Once payment has been made, the applicant shall submit, on the appointment date, his/her complete file comprising the online application form, all relevant documents and a receipt attesting to the payment online. The services for submission of files shall include: MINREX Central Services in Yaounde or the Douala Protocol and Consular Branch Office," Minister Mbayu said.
The Ministry of External Relations also warned that documents submitted for authentication will not be collected if they do not follow the new guidelines.
Mimi Mefo Info
You can help support our work through the link below