Cameroon's public health minister, Dr Manaouda Malachie has reiterated the need to improve on efforts in the fight against the deadly coronavirus now COVID-19.
In a press release issued yesterday, the government official revealed that a third case, a 56 year old had been diagnosed.
The patient had been living in Italy and "arrived in Cameroon on 07 March 2020 through Paris."
"This new imported case was detected thanks to the surveillance system set up by the ministry of public health" he added.
Urging health personnel to be more vigilant, the minister said they "are to be congratulated on their courage and self sacrifice."
With regards to those that have come in contact with any patient diagnosed of having the virus and is showing a number of symptoms, minister Manaouda advised that they call 1510 for immediate medical attention.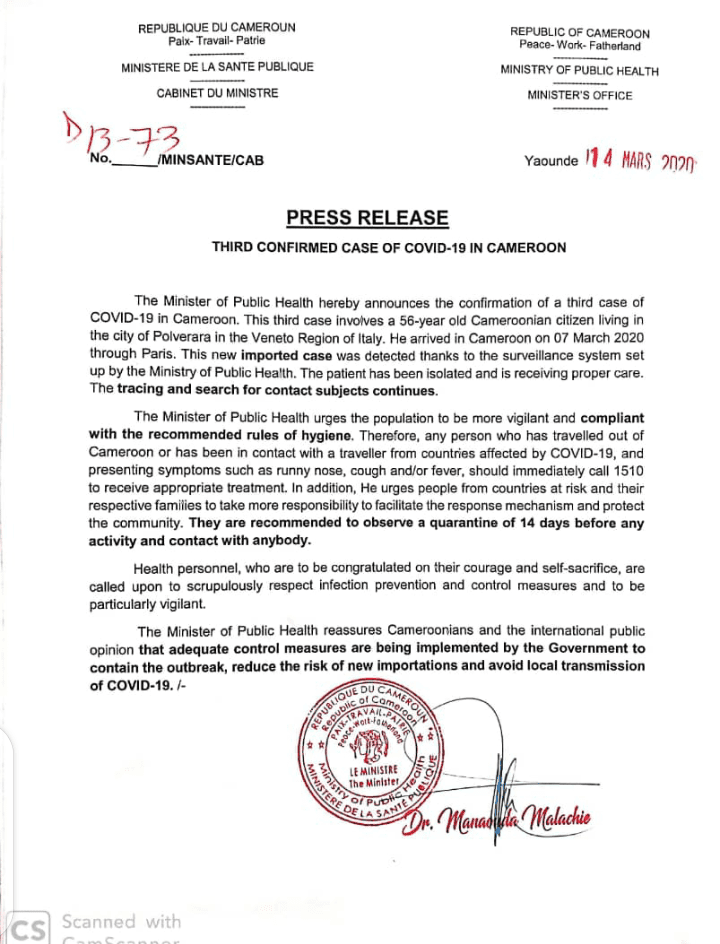 Despite the rapid spread of the virus, authorities in Cameroon have remained mute to calls for travel restrictions on persons from other areas seriously affected by the virus.
Over 159.000 cases of the virus have been recorded since the outbreak in Wuhan, China with over 5.000 deaths so far.
Cover photo: WHO
MMI
You can help support our work through the link below