After years of continuous activism, Ambazonian Diaspora leaders have announced that their case will finally be heard in the coming months by international courts.
As per article 34 of the Statute of ICJ, only the State (nations) can approach ICJ for justice. The state can take the international dispute involving their citizens to ICJ for justice. This has raised a few worries as to how exactly the Ambazonia Interim Government hopes to put this into action.
This notwithstanding, expectations are now high among victims of the Anglophone Crisis who have been trapped in a bloody conflict for over three years.
"Unlike before, La Republique du Cameroun would not only have to feel the pain unleashed on them by our restoration forces and the isolationism impact of our covert diplomacy but equally that which hunts them from the international halls of justice in Europe," Chris Anu, Ambazonian Interim Government's Head of Communication states, adding that "Ambazonia's case is finally going to be heard at the ICC (International Criminal Court), and subsequently at the ICJ (International Court of Justice)."
In a bid to emerge victorious, Chris Anu reveals that they have settled down on an "expert firm", Fein and Delvalle PLLC, a Washington DC-based law firm with past experience "in Ethiopia, the Sudans, Libya, Nigeria and many other conflicting interests in Africa and Eastern Europe."
"The case at the ICC will pit Paul Biya, and his regime collaborators, including their soldiers, vs. the people of Ambazonia." The case Anu adds "involves charges or indictment against genocide and crimes against humanity. If convicted, Mr Biya and his friends in crimes against humanity may end up at The Hague behind bars like in the order of former Chadian President Hissene Habre, Charles Taylor, and others."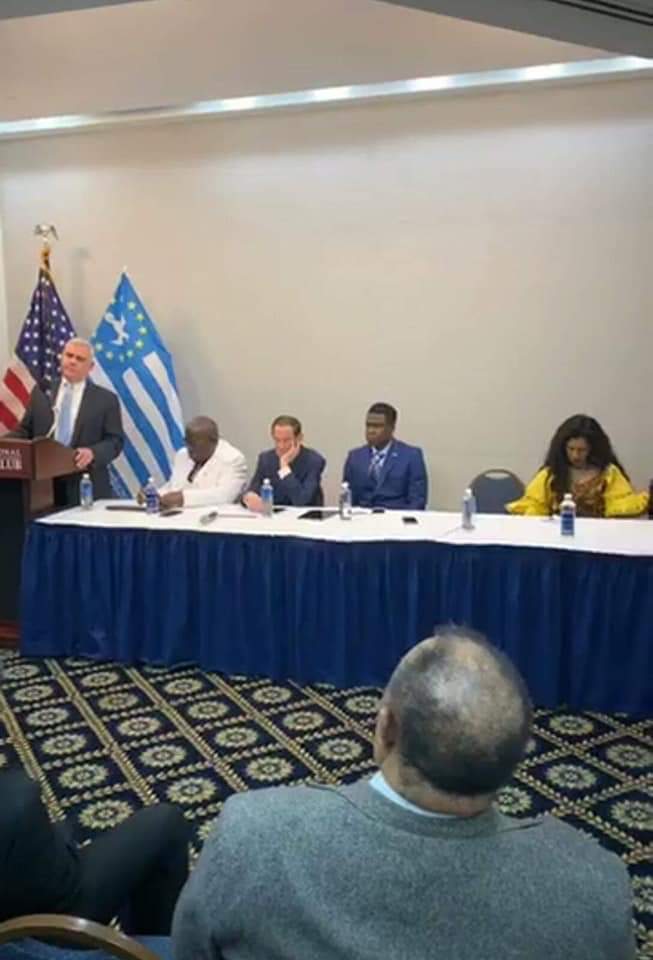 The case at the International Court of Justice, the ICJ on its part, he explains, will come a bit later. It will "specifically focus on the argument for a free Ambazonia and the injustice done to it by the UN, and the decolonization process that landed us unequally yoked with French Cameroun."
Noting that their contract with the law firm does not extend to the long run, Chris Anu says "a lot of work is expected to be pushed through within the immediate six months. Paul Biya and perpetrators should receive their ICC summons as early as this month-end or next month."
"The legal undertaking, very important to note, isn't an Interim Government initiative only, it is that of ACT, (Ambazonia Coalition Team). ABC Amba TV shall be broadcasting the entire press forum in the days ahead," he adds.
This will not be the first time that a faction of Ambazonian leaders are making such a huge claim. In 2017, the then Southern Cameroons Ambazonia Consortium United Front (SCACUF) announced that it had retained the services of a US law firm, Foley Hoag. Similar claims were made and evidence shared on social media that a retainer of $35,000 had been paid to the firm. After a while, nothing was heard of the impending lawsuits against the Biya government.
However, as per article 34 of the Statutes of the ICJ, earlier mentioned, the state can also take an international dispute involving their citizens to the ICJ for justice. This has therefore raised a few worries as to how exactly the Ambazonia Interim Government intends to carry out its plan this time around, if it is will end up being another wild goose chase as was that of Foley Hoag.
Following the violence that erupted in the Anglophone regions and the intensification of the separation struggle by home-based and diaspora based actors, over three thousand are reported dead. President Biya's regime has in most instances traded blames of human rights violations with separatists.
Mimi Mefo Info: Support us via PAYPAL: MILLYVILLE2004@YAHOO.FR / MOBILE MONEY: +237679135573
MMI
You can help support our work through the link below