One person has died in Bonapriso, Douala Monday March 23rd 2020 of the Coronavirus.
The 63 year old man called Achille Essome Moukouri according to his kid brother returned from France less than a month ago and was receiving treatment at the Laquantini hospital in Douala at the section reserved for COVID 19 patients.
Another close source to the family told Mimi Mefo Info that besides returning from France, the deceased equally lodged two people who returned from France and were not quarantined.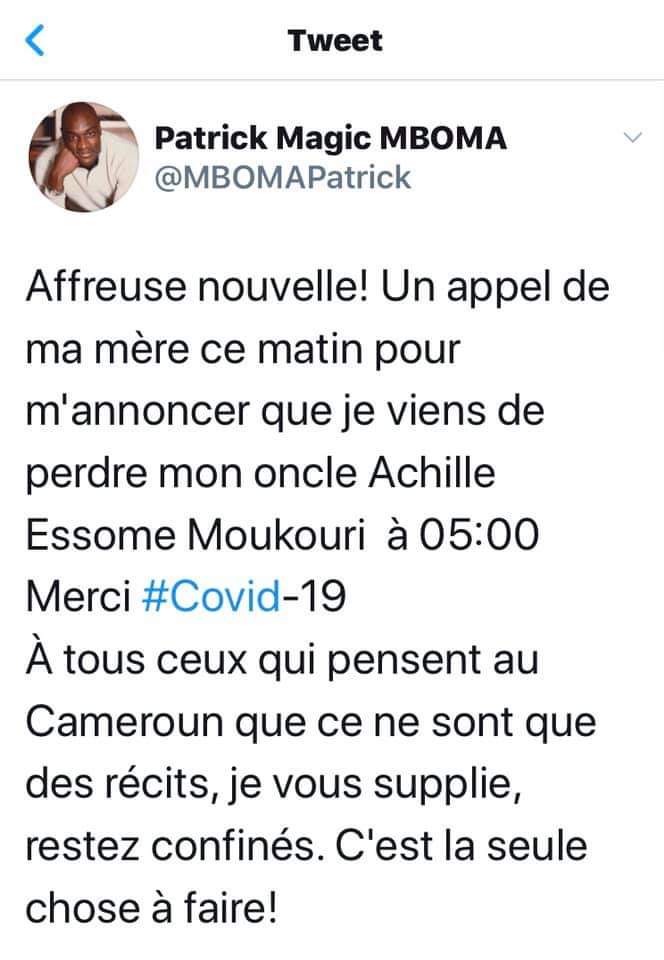 His documents have been taken to the governor's office in Bonanjo – Douala for further modalities and probably official announcement.
The kid brother of the man says he will be quarantined today after being in close contact with the brother.
Cameroon's former International footballer, Patrick Mboma has tweeted that Achille Essome Moukouri was his uncle and died of coronavirus.
The today football analyst calls on Africans to neglect information that the coronavirus does not kill Africans or people with black skin. Shops around the compound in Bonapriso Douala have closed without any pressure from authorities.
This is the first coronavirus death in Cameroon since the outbreak of the virus in Cameroon on the 6th of March 2020. There has however been no official announcement by the government yet.
State media however quotes the hospital's regional director saying the patient died of diabetes.
Mimi Mefo Info.
You can help support our work through the link below