Thomas Tangem, a detainee of the Anglophone crisis has today been confirmed dead at the Yaounde Central Yaounde. Tangem gave up the ghost some few minutes after 6:00 AM, Mimi Mefo Info has learned.
News of his death was made public by lead counsel for the defence team, Amungwa Tanyi ESQ. He is one of the team of lawyers defending Tangem who has been in prison for over a year now.
"The chairman of communication and media for the defence team of Ayuk Tabe and other Southern Cameroonian detainees announce with deep regret the death of Tangem Thomas at 10 minutes to six in the morning this August 05th, 2020 at the Yaounde Central Hospital. Pa Tom died in chains to the satisfaction of the prison and justice administrators. The corpse is about now being kept in the mortuary of the Central Hospital Yaounde" the lawyer said in a statement.
Thomas Tangem was brought to the Yaounde central Hospital on July 25, 2020 after it was alerted he was sick of Meningitis and risked getting worse off at the hospital.
"He had been sick for over five months, but was neglected and abandoned in jail. He was only taken recently to the hospital when his condition worsened," an inmate told Mimi Mefo Info.
The case of the Anglophone detainee brought wide criticism across Cameroon as there was an order for Tangem to be cuffed to his hospital bed in his critical state.
Family members and well-wishers of Thomas feared the precarious handling of his health was going to be bad for him and it has turned out to be the case.
Thomas Tamgem's detention "unjust"
A family member of Thomas Tangem told Mimi Mefo Info that the inmate was arrested since 2018 in the English-speaking part of Cameroon.
Tangem's case, he adds, was termed null and void in court, "but government has not secured his release".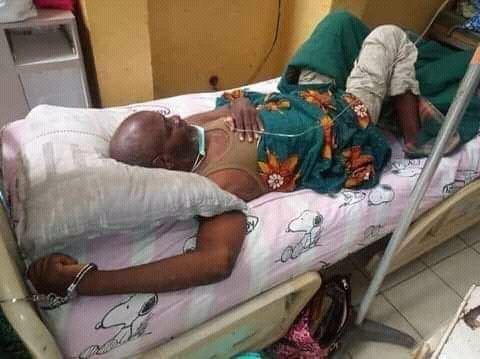 "The court ruled that he was innocent, no was no proof that he was a supporter of the Ambazonian movement," he told MMI.
Tangem is just one of the victims of the Anglophone crisis. It stemmed from a quest for equality, but later morphed into a bloody independence conflict after government soldiers clampdown on armless civilians.
Thousands were arrested and taken to different detention facilities across Cameroon. Human rights watch has urged Cameroonian authorities to hasten judicial proceedings and release those arbitrarily.
Mimi Mefo Info
You can help support our work through the link below