Journalist Mimi Mefo Takambou, Publisher of Mimi Mefo Info (MMI) has observed that life is becoming increasingly difficult for Anglophones who are internally displaced across the French-speaking areas of Cameroon.

Not only do they face social-economic difficulties, but they are also currently being confronted by a negative discourse that is being perpetrated by some Francophones, especially within the media class, who are pushing a dangerous narrative. For the past few weeks, some Francophones have been pushing a storyline that could finally lead the Cameroonian state to breaking point.

With the armed conflict in the North West and South West Regions actively in its fourth year, hundreds of thousands of Anglophones have fled into the French-speaking regions for safety.

But as it now turns out, these Internally Displaced Persons or IDPs as they care commonly called, are far from safe in their new 'homes'.
Stigmatization of IDPs and general negative feeling about them can be easily observed in terms and phrases used by francophones with regard to this group of people. For instance, Anglophone IDPs are often referred to as "Les Ambazos", an appellation which can land even the most law-abiding citizen into the throes of an indefinite prison sentence.

This is so because the appellation has acquired quite a negative context in Cameroon, not to speak of its wrong usage. An 'Ambazo' is used here to refer to a person fighting within the ranks of the armed separatist groups in the North West and South West Regions who want to create a state called Ambazonia.

The misguided Francophone publications claim that IDPs who are victims of the conflict, are rather ex-fighters fleeing attack from the military. On their social media, radio, and TV platforms, they say these IDPs living in villages and cities have separatist traits. They call on their brothers and sisters to watch out for the IDPs and to deny them even menial jobs.

Because these IDPs are for the most part unwelcomed, they live in crowded rooms, uncompleted buildings, and can do any kind of job just to get a meal. But even to get these menial jobs is often like attempting to go through the eye of a needle. For instance, asking an IDP to present a surety among other documents to pick up a low-grade job, is tantamount to refusing them employment regardless of how qualified they are for the job.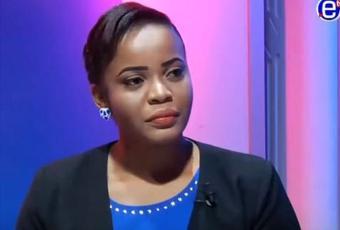 Mimi Mefo rejects claims that IDPs in French-speaking regions are ex-fighters. This is not factually accurate considering that from 2017 when the crisis morphed into an armed conflict, hundreds of helpless civilians had to flee to 'safety'.

Thousands of IDPs who escaped were in major French-speaking cities with uncountable numbers living in abject poverty, dozens sharing single bedrooms, sleeping on bare floors. At the same time, the negative sentiments that accompanied their arrival have led to many living in hiding for fear of reprisals from the receiving population. It is almost like the proverbial movement from a 'frying pan into fire'.

"To say today that they are Amba is unfair and will further stigmatise these people and push the host communities to attack them. Do not forget Francophones are also in these regions, doing the same menial jobs and providing unskilled labour," said Mimi Mefo. "Going by the constitution of Cameroon, citizens have the freedom to move and live anywhere within the country. These citizens in need should not be victimised, they should be provided the necessary support needed for their psychological healing."

Thousands of displaced Anglophone IDPs are already subjected to arbitrary detention, enforced disappearances and unfair trials. They do not have ID cards because most of them fled in the heart of the night while for others; everything was lost when their houses went up in flames.
These IDPs are today at heightened risk as government authorities continue to downplay the figures and the severity of the situation.

Mimi Mefo regrets that the government of Cameroon has never looked for avenues to sincerely address this conflict amicably and indefinitely.

Cameroonian authorities must address the continuing collective punishment of IDPs and take strong measures against persons who stigmatise IDPs.

"It is terrible to say that even caregivers (women) from Anglophone regions are Ambas. To prevent further cycles of abuses, state authorities must guarantee that no one is punished for the crimes of others; that all Anglophone IDPs can obtain civil documentation in good time; and that the whereabouts of those disappeared by state forces is revealed," said Journalist Mimi Mefo.
"The internally displaced must be given a meaningful choice about their future and any returns must be dignified, safe and sustainable. The state should go beyond giving the IDPs a few cubes of soap, blankets, vegetable oil and small food. The state has to put a permanent end to the conflict. A return to peace is a perfect gift to the Anglophone community and the IDPs as well."
The Government's plethora of unfulfilled "promises".
In 2020, Cameroon's President Paul Biya ordered for the disbursement of gifts worth CFA 600 Million to some IDPs in the country. The gesture which many termed 'a cosmetic move' came over two years after the regime unveiled a 12.7 billion CFAF (22billion Dollars) 18-month Emergency Humanitarian Assistance Plan to assist victims of the conflict. It is still unclear how the funds were distributed.

"I watched with dismay, videos and pictures of a Douala-based traditional ruler who took in 60 IDPs… They were sleeping on the floor, in the same room and under precarious conditions. That is just half of the story of many others. So, are they Ambazonians fighters? Why has the emergency plan failed to address these cases and those of kids and many others suffering a similar fate in Bonaberi, Yaoundé, Bafoussam, Moungo?"

In a chat with a Cameroonian whose name I will not mention for fear of reprisals, he said:
"War is a source of increased insecurity. Whether they are manipulated by power or act of out of their own will, there are gangs that are born out of war… the fight against organized crime must be stepped up without stigmatizing a community. A political solution to the crisis must be sought quickly. If there is a solution that satisfies most actors, the gangs will be marginalised, and everyone will have an interest in putting an end to it."

I will say: "injustice/stigma anywhere is injustice and stigma everywhere. IDPs are victims of the war and not actors. The regime has been fuelling division among Cameroonians, instead of uniting them, and intellectuals should be able to identify that, denounce it and speak the truth. That will be a wake-up call to the powers that be".

In cases such as Cameroon where the government is failing however, it is often the role of the media to speak up and hold power to account. Sadly, with the current situation where some media persons and outfits are perpetuating the injustices against a vulnerable population, the situation is more precarious as there might soon be no sanctuary for victims of the Anglophone conflict.
You can help support our work through the link below