A coalition of individuals and organisations to generate support for the end of the war in the two English-speaking regions in Cameroon have jointly written out a letter tagged: "The Coalition for Dialogue and Negotiation" in which they have shown delight in the apparent will by conflicting parties of the crisis in the Anglophone regions to resolve the crisis.
Signatories to this letter and to the initiative include: Denis Foretia and Judith Nwana, both co-chairs, Eban Ebai PhD and Paul Ndi, MBA amongst others.
The coalition in the letter published is positive that the fight for ceasefire sought by the two parties during their meetings one of which was on July 2, 2020, will no doubt be a catalyst for the return of peace in the two regions.

"… the talks between the government and the jailed Southern Cameroon's leadership in jail led by Sisiku Ayuk Tabe which took place on July 2, 2020, is strongly believed by the coalition that it will lead to a ceasefire which is a major guarantee for compliance. It is therefore our hope that these preliminary talks will serve as a catalyst for an inclusive negotiated process and effective ceasefire," it opined.

While Cameroon is one of the most affected African countries in terms of cases of the Corona Virus, the coalition thinks that resolving the conflict in the North West Region and the South West could see all that attention and positive energy channelled towards fighting the deadly pandemic out of the Country.

As a means of facilitating the peace process amongst the two protagonists in the conflict regions, the coalition gave in some regulations upon which they deem fit to model their peace process upon which included:
"The government of Cameron and the Leadership of the Southern Cameroon armed groups to commit to an open, genuine, and transparent adherence to a United Nations Security Resolution 2532," it mentioned.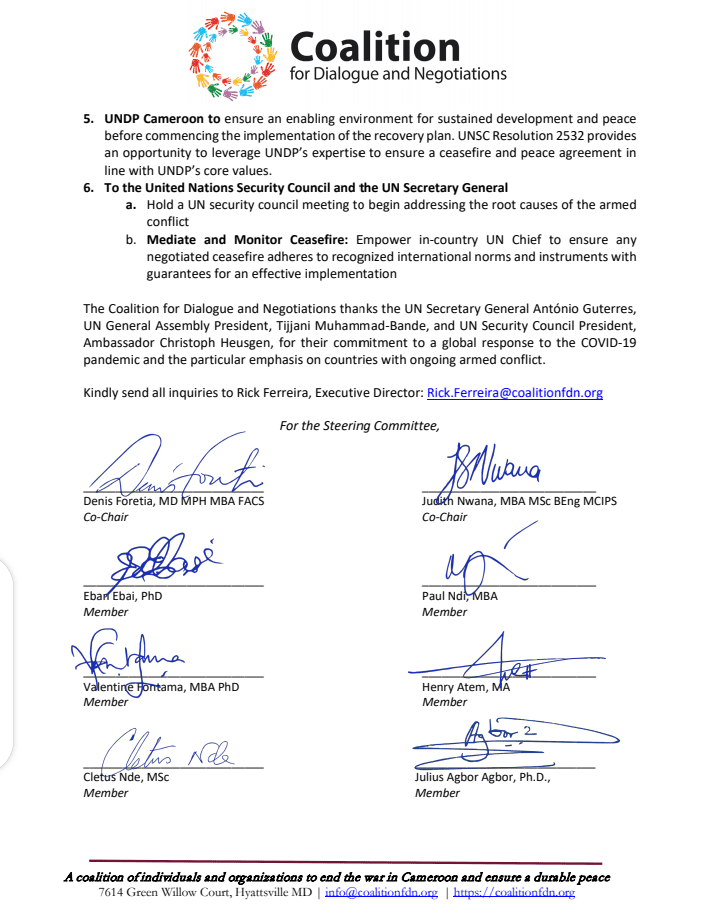 "… the government of Cameron should adhere to a global call for the unconditional release of all Southern Cameroonians incarcerated within the context of the armed conflict as a show of god faith for genuine ceasefire negotiations," the letter stated, proposing that "… it will be imperative at this point for all political engagements to be geared towards encouraging the warring parties and credible international stakeholders to implement a negotiated ceasefire".

The coalition ended by commending the efforts of the UN Secretary-General, Antonio Guterres and his associates for their commitment in ensuring a global response to the COVID-19 pandemic with particular emphasis on countries with on-going conflicts such as Cameroon.
Mimi Mefo Info (+237679135573)
You can help support our work through the link below