MMI has learned from reliable sources, including a Douala-based Radio station Balafon Radio, that the owner of Vision 4 television, Jean Pierre Amougou Belinga, was arrested alongside the television's manager, Bruno Bidjang, about 5:30am (GMT+1) today, February 6th, 2023.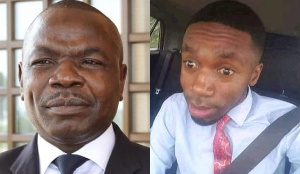 A journalist working with Vision also confirmed to MMI today on the basis of anonymity that Belinga was picked up this morning by Gendarmes officers and taken for questioning.
His arrest comes three days after a shocking report by Reporters Without Borders published on February 3 directly linked him to the abduction, torture and murder of journalist Martinez Zogo.
The murdered journalist is reported to have been investigating embezzlement allegations against Belinga when he was abducted on January 17, murdered and his mutilated body dumped five days on the outskirts of Yaounde.
Based on a testimony provided by Justin Danwe, Director of Special Operations at Cameroon's Secret Service, who was also arrested in line with the journalist's killing, Amougou Belinga collaborated with the Minister of Justice, Laurent Esso, to kill Martinez Zogo.
"Zogo was reportedly taken to a building under construction that belongs to Jean-Pierre Amougou Belinga, a powerful businessman who Zogo had accused of embezzlement," wrote RFI in its recent report that is based on Danwe's testimony to investigators.
The report furthered: "According to Danwe's confession, Belinga himself then beat Zogo in the basement of his building and telephoned justice minister Laurent Esso, to whom he is close, to ask him what Zogo's fate should be. Esso, who is one of the most powerful members of the government, allegedly responded that Belinga should 'finish the job' to avoid a repetition of the case of Paul Chouta, a journalist who was beaten last year by a mysterious group of assailants who were never unidentified. They left Chouta for dead at the roadside but he ended up surviving.
"According to Danwe's statement, Belinga was not present when "the job was finished," a task that Danwe acknowledges having carried out himself together with his men."
The government announced last week that several persons had been arrested for the Martinez Zogo's killing.
As at now, no official statement has been issued regarding the arrests.
MMI would continue to monitor this story for more updates…
You can help support our work through the link below