The church in Cameroon is no stranger to controversy and crisis. For the past months, reports of leadership squabbles have rocked the Presbyterian Church in the country, and now the Roman Catholic church has followed suit.
Since the appointment of Bishop Michael M. Bibi on December 2019 as Apostolic Administrator of the diocesan of Buea by the Pope, his role and actions have raised concerns on the minds of some christians.
Much of this however stayed indoors till Father George Nkeze was relieved of his duty as President of the Catholic University Institute of Buea, CUIB.
In a June 9 letter by Barrister Sobe Clive Ndikum, legal counsel for the Catholic University Institute of Buea, CUIB, he says Bishop Michael Bibi has "bitten more than he can chew".
"While the role of the Apostolic Administrator is to oversee the day to day administrative affairs of the diocese pending the appointment of a new bishop as per cannon law; to wit not to carry out any major change or decision which is for the new bishop to make" the letter reads.
Barrister Sobe however believes "the newly appointed administrator has caused irreparable damage and mistrust among students, faculty members and the laity and other well-wishers of our christian community."
The administrator he says has done so by making what he calls "uninformed, ill advised and rash decisions beyond the scope of his mandate." Among the accusations he brings forwards, the lawyer says the Apostolic Administrator has blocked all accounts of the university and has refused to attend board meetings as an interim administrator since day one.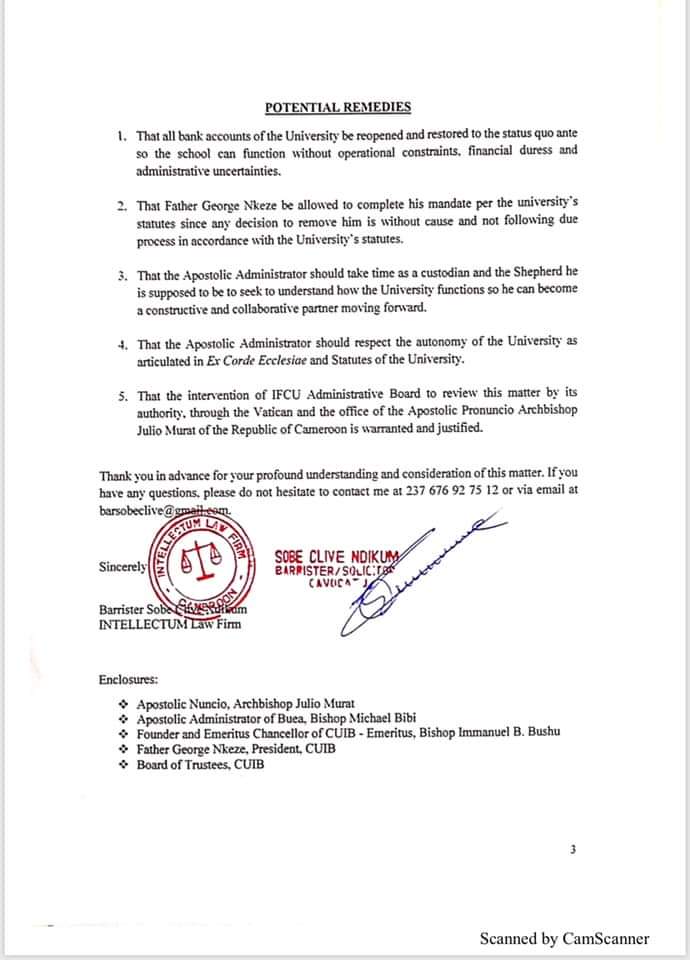 He goes ahead to seek potential remedies, calling in the Apostolic Administrator to open the bank accounts. "That Father Nkeze be allowed to complete his mandate per the university's statutes since any decision to remove him is without cause and not following due process in accordance with the university's statutes" he adds.
The letter has been received with mixed feelings, with some calling out Father Nkeze for disrespecting authority.
While this seems to be just the beginning of a huge dispute, many say they hope it can be resolved behind closed doors as a church fight in the streets is the last thing they'd like to see.
And end to this seems far fetched.

Mimi Mefo Info
You can help support our work through the link below