Cameroon's Minister of Communication, Rene Enmanuel Sadi has called for proper hygiene and sanitation, as the country battles to contain the two coronavirus cases, identified Friday. Cameroon became the fourth country in Sub-Saharan Africa to be affected by the deadly coronavirus.
Minister Sadi said care should be taken when dealing with people who recently arrived Cameroon from countries where several cases of coronavirus have been recorded. "Ensure your hands are constantly washed with soap, " Minister Sadi said.
The second person infected by coronavirus is a Cameroonian who came in contact with the French National after the latter's arrival in Yaounde with the disease in February.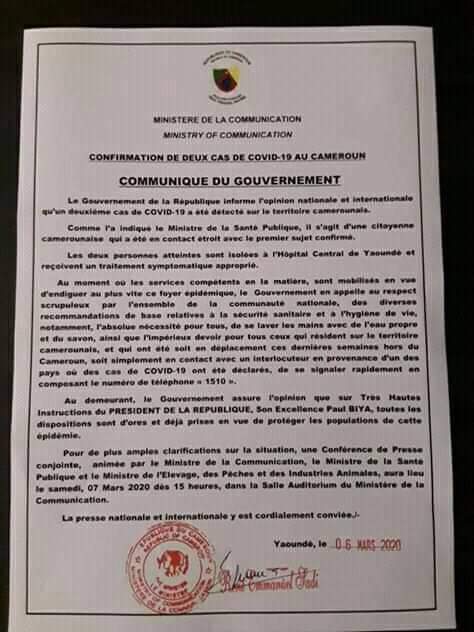 They are in "solitary confinement" at the Yaounde central hospital receiving treatment, said the government spokesperson.
The public health, livestock and communication ministers are due to meet in a press conference this Saturday in Yaounde amid fears among citizens.
Cameroon is barely managing to tackle cholera, pollio and malaria and many fear, further spread of coronavirus could put the lives of many at risk.
Over 3500 people have died and over 100.000 infected since the virus was detected in China's city of Wuhan.
Mimi Mefo Info
You can help support our work through the link below