The time has come for Africans in general and Cameroonians in particular to avoid the wholesale demonization of the oil and gas industry and explore the potential benefits that oil and gas exploitation can offer the people of Africa.
This is a view held by Cameroon's NJ Ayuk, who is the founder and CEO of the African Energy Chamber, the founder and CEO of the Pan-African legal juggernaut Centurion Law Group and was also named one of the top 10 most influential men in Africa by Forbes in 2015.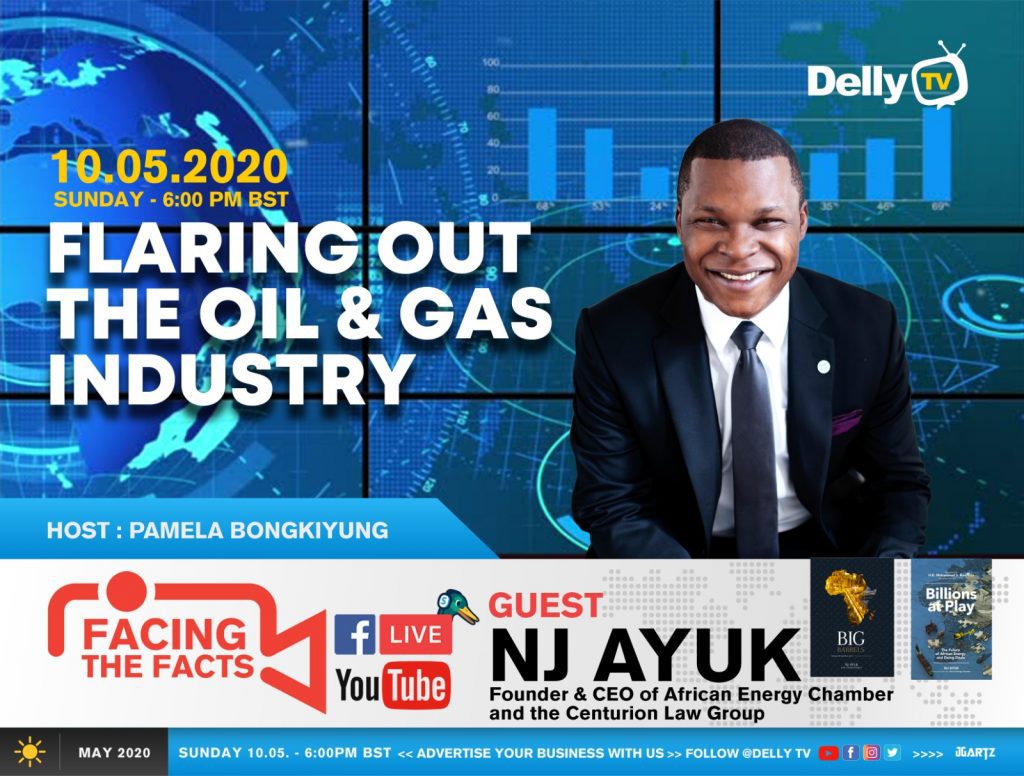 On Sunday, 10th May, 2020 he appeared on the DellyTV programme Facing the Facts, which is focused on having open and objective discussions to empower people with information, to enable them make informed decisions or choices. The intended result is to get people to think holistically in seeking solutions to society's problems.
In his interview with Facing the Facts hosted by Pamela Bongkiyung, he had this to say about Cameroon's refinery SONARA: "A refinery is key in a country but right now a refinery does not exist any more as we are importing a lot of the oil. We have to go beyond the refinery. There is great potential for gas in Cameroon. Energy poverty is real and a lot of people do not have lights and let's get back to basics. You can never get manufacturing and create more jobs when you do not have power. You cannot run an industry with generators. Tapping into the diaspora to help reshape the system is key."
NJ Ayuk called on Cameroonians and Africans at large in his recently published book: Billions at Play – The Future of Africa Energy and Doing Deals, to understand that in business, what is essential is delivering and getting the job done. He emphasised the need for business owners to consider a two-fold obligation: they need to make a profit to keep their shops afloat and equally support the prosperity of their communities.
On the show, NJ Ayuk discussed governance, the role of women in this industry, environmental degradation, inclusion of the local communities through airtight local content laws and increasing the share of local players in the industry, technological advancements to ensure transparency and efficiency, and improving negotiation skills for win-win deals on natural resources projects with foreign multinationals.
He addressed how Africa can use oil and gas to power the continent and transform it. He warned that Africa should stop limiting its focus only on extraction and sale of crude oil.
"The gas that Nigeria is flaring can power at least 50 – 60% of the continent. Cameroon, Ghana, Congo, Gabon, Equatorial Guinea, all have gas that has been flared. We need to use our natural resources to power Africa. When you power Africa, you create jobs, you create factories, you create industries. You start seeing economic growth and empowerment and then you start having infrastructural development. With that kind of infrastructural development, we stop asking for aid. This avoids civil crisis, civil wars and strife in countries because we are seeing economic prosperity. People fight because they are hungry and do not see the economic outlook of their communities changing. We only lease our resources to multinationals or ship it to China but we need to start changing this outlook", emphasised NJ Ayuk.
He added that Africans need to make sure that their oil is used to power oil refineries and their gas used to power gas plants.
"The largest consumers of oil – China and India, what do they do with all the oil and gas they buy from Africa? They create power industries, manufacturing industries, factories and they manufacture goods and sell them back to Africa", NJ Ayuk added.
To conclude, NJ Ayuk encouraged Africans and Cameroonians to reach out to mentor the youth back home to enable them have a shot at life as the diaspora has experience and opportunities that those back home do not have. He applauded the initiative of creating business incubators rather than doing charity, as it will enable people to collectively develop their communities by themselves.
"We can only shape what we put our minds to and these are difficult times as there is the crisis in the North West and South West Regions, compounded by COVID-19. We have some people who are refugees and even though we are talking about the oil and gas sector, we need to pay attention to improving the lives of people so that we don't return to where we have young men and women finding themselves in harm's way. We need to pay attention to do for ourselves and not wait for the government to do for us," he said.
NJ Ayuk is the author of Big Barrels African Oil and Gas and the Quest for Prosperity (2017) and Billions at Play: The Future of Africa Energy and Doing Deals (2019).
You can catch the interview on DellyTV YouTube Channel.
You can help support our work through the link below