By David Atangana
Cameroon's hygiene and Sanitation Company, (HYSACAM) has debunked rumors of involvement in the ghastly accident on the Muea-Ekona road, in the South West Region, that left nine people dead and one injured.
Witnesses told MMI that the ghastly Friday's accident was caused by smoke emanating from the burning of refuse around Musaka by the sanitation company.
Speaking to MMI, HYSACAM said it was not the company's fault and blamed the accident on "reckless driving."
"The management of HYSACAM Buea wishes to inform the entire population of Buea and its environs that on December 14, 2022, an unfortunate ghastly accident occurred just at the entrance into the Musaka dumpsite." a statement from HYSACAM reads stressing that, "This accident which was as a result of an over speeding cargo truck which ran into and crushed a small vehicle transporting people leading to loss of lives."
Visibility has been posing a challenge around the neighborhood owing to smoke.
Locals say the smoke emanates from a heap of garbage incinerated by HYSACAM.
HYSACAM has, however, denied such claims saying that incinerating garbage is not their policy.
Musaka, the scene of the accident according to the hygienic company witnessed the burning of a car since December 1, 2022, with smoke coming out of it for days.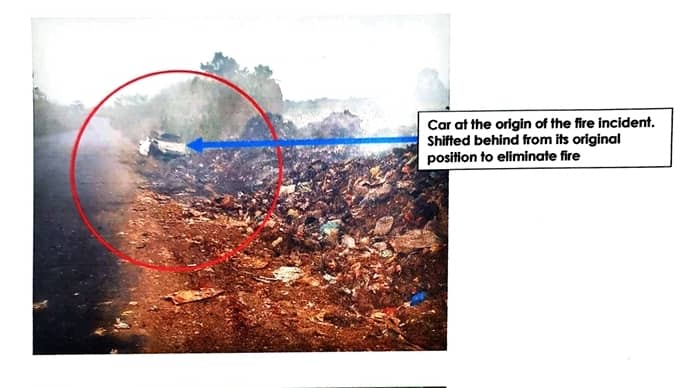 "The Zone of Musaka, as some drivers plying the Kumba road can testify has been witnessing poor visibility due to smoke that kicked off from a burning car that parked close to the dumpsite on the night of 1st December 2022 transmitting the flames to the garbage at the dumpsite."
"The accident on Friday night has nothing to do with HYSACAM because it was more than a kilometer from HYSACAM, right at Mamou entrance," an official of the company told MMI.
Regretting the bereaved families, HYSACAM appealed for caution as road users ply the motorway.
It should be noted that HYSACAM has also incurred untold losses in the struggle to keep the town clean amid a deepening armed conflict in Cameroon's two English-speaking regions.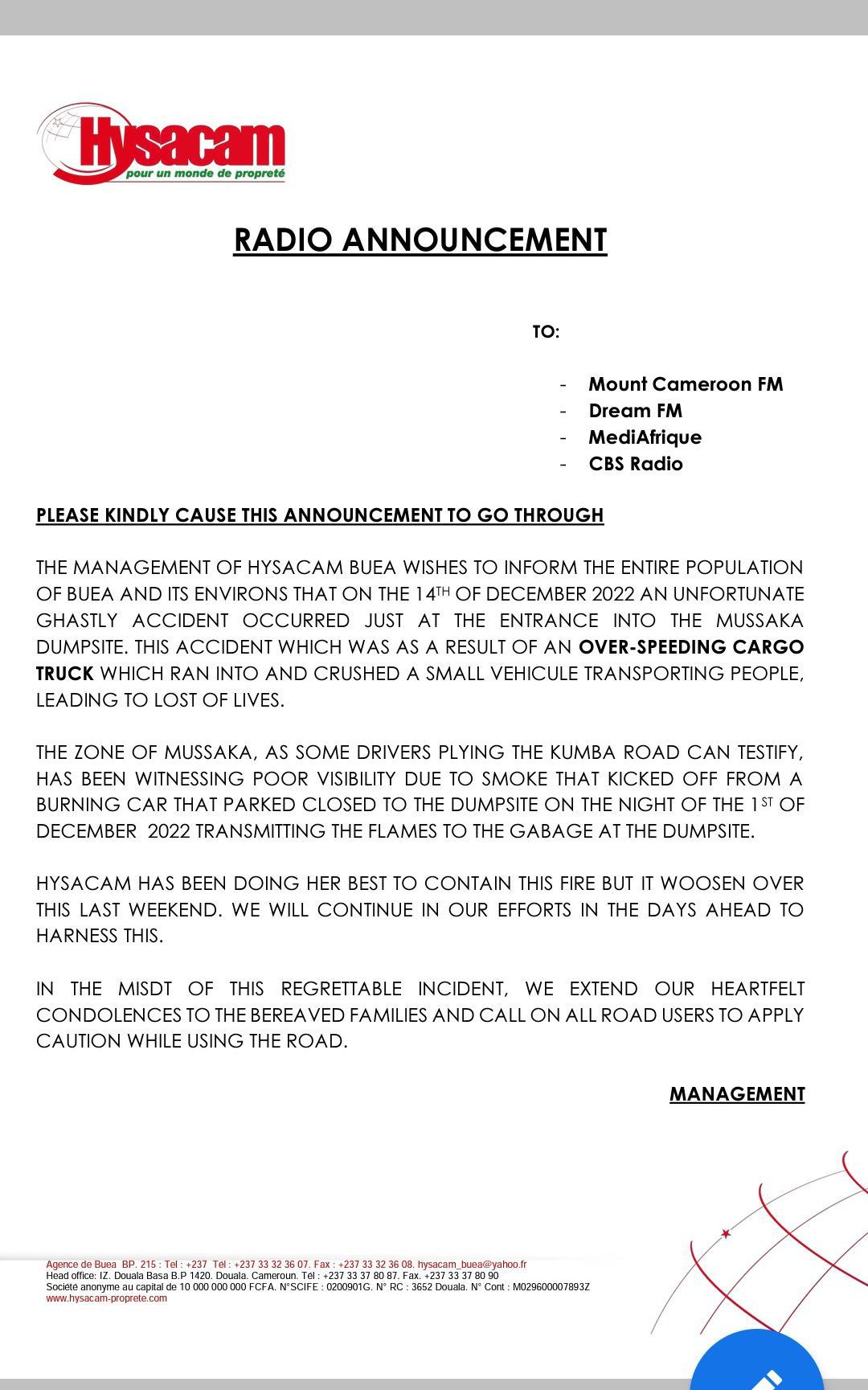 Two bulldozers, a truck, and offices at the waste treatment center were reportedly lost.
The recent incident saw all forces put together to put it to rest.
According to the information gathered, the firefighting brigade from Kumba intervened with little to show.
"We have used the fire fighting unit from Kumba since yesterday to assist and will continue today, then after, the bulldozer will set in as from this morning to clear the site as usual," HYSACAM said.
(C) Mimi Mefo Info
You can help support our work through the link below