Lawyers representing Prof. Maurice Kamto have told President Paul Biya they are ready to defend the MRC leader to the fullest.
In an open letter, the Amsterdam & Partners law firm hired by the Cameroon Renaissance Movement and Prof. Maurice Kamto said they will advocate to the fullest extent guaranteed in the constitution of Cameroon and in international humanitarian rights law.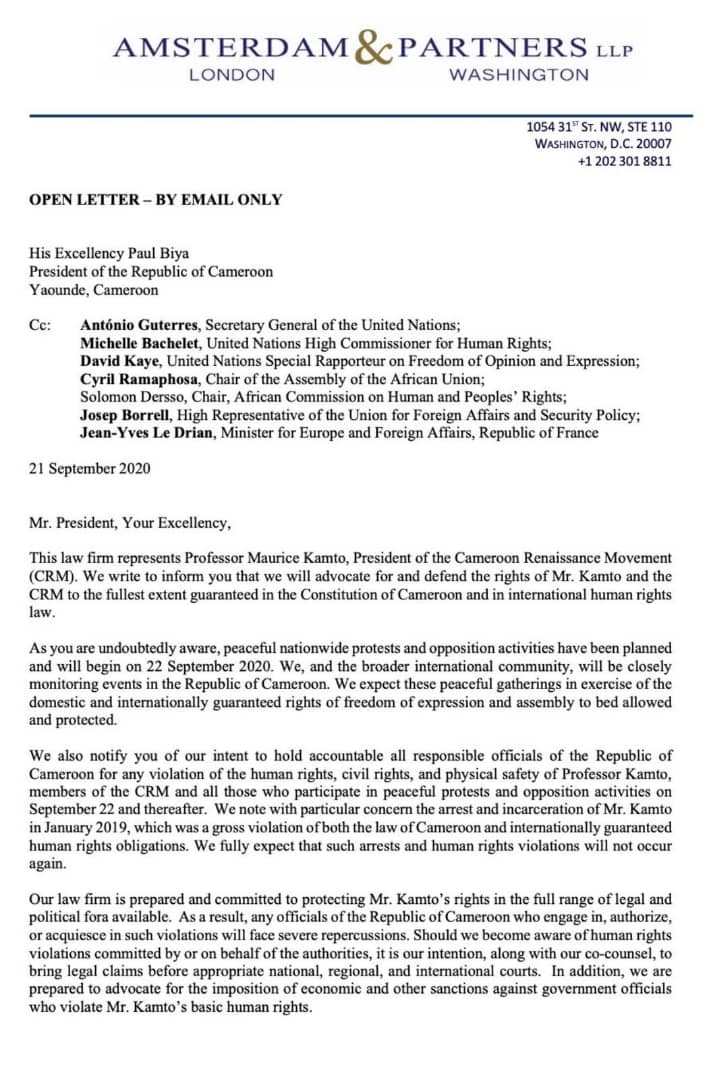 "As you undoubtedly are aware, peaceful nationwide protests and opposition activities have been planned and will begin on 22 September 2020. We, and the broader international community will be closely monitoring events in the Republic of Cameroon. We expect these peaceful gatherings in exercise of the domestic and internationally guaranteed rights of freedom and assembly to be allowed and protected," they said.
Addressing government's planned response, the firm adds that it will "… Hold accountable all responsible officials of the Republic of Cameroon for any violation of human rights, civil rights, and physical safety of Professor Kamto, members of the CRM and all those who participate in peaceful protests and opposition activities on September 22 and thereafter."
Recalling the 2019 arrest of Kamto and other MRC supporters, the firm also warns that a similar move should not be made by government. Perpetrators of such, it adds, will be dragged before national and international courts.
"I note in particular that harassment or interference with peaceful political opposition activities and the violation of the rights of Mr. Kamto and members of the MRC could result in sanctions against Cameroonian officials under the Global Magnitsky Act of the United States of America and the United Kingdom's Global Human Rights Sanctions Regulations," Robert R. Amsterdam, Founding Partner of the Amsterdam & Partners law firm, added.
The recent move comes after government officials threatened to have those that protest on Tuesday face the law.
Ahead of tomorrow's planned protest, several solidarity marches have been taking place across the world with Cameroonians echoing calls for President Biya to leave power.
Mimi Mefo info
You can help support our work through the link below