Following a viral video on the social media of Dr. Etoa Mebara Francois Xavier humiliating a parent for refusing that her son should not been vaccinated, governor Samuel Dieudonne Ivaha Diboa has explained the necessity of the vaccine for kids of zero to five years.
Visiting government primary school Camp Bertaud New Bell at Douala 2 Monday October 11th 2020, the governor called on parents to let their kids vaccinated against polio.
The civil administrator condemned the arrogance and pride of Dr. Etoa Mebara Francois Xavier of the New Bell district hospital towards parents and kids last week while in the school to carry out the vaccination exercise.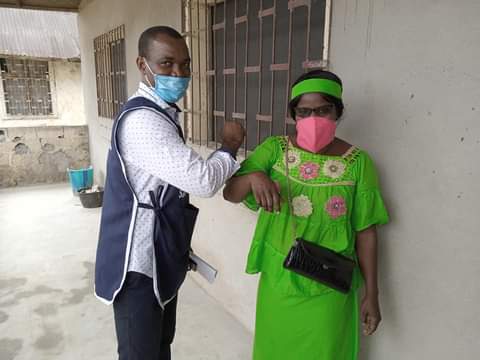 In the video that has gone viral on the social media, Dr. Etoa pushed out a little school boy and his mother from class because the mother said the son should not be vaccinated.
In the video, Dr. Etoa is seen and heard saying "…if you don't want your son to be vaccinated then take him away. If the child must stay in class then I will vaccinate him. This is an instruction from the government. Do you want to bring the behaviour of CRM here?"
The governor has reconciled the parent and the doctor who officials say misbehaved before parents, kids and teachers at government primary school Camp Bertaud.
This phase of vaccination for kids zero to five years is for kids in six out of the ten regions of Cameroon with the Littoral region inclusive.
Mbatho Ntan.
You can help support our work through the link below