By Tata Mbunwe

The Senior Divisional Officer for Menchum Division, Northwest region, Abdoullahi Alliou has promised to fish out and punish armed men who murdered the Fon of Esu village and his wife on March 9.

HRH Fonkum Achuo Kawzuh Albert was killed alongside his first wife, Duh Bibiana, at about 6:45 am on Wednesday while they were returning from the enthronement ceremony of Fon Mbuh II of Weh, a neighbouring village.

His second wife and a traditional notable were injured in the attack, which locals have blamed on Fulani herdsmen.

"The Senior Divisional Officer for Menchum in strong terms condemns such a barbaric act perpetrated on the Esu Royal Family, and assures the population that investigations are ongoing to fish out and punish accordingly the perpetrators of this inhumane act," the SDO said in a communiqué signed March 10.

Extending his condolence to the Northwest House of Chiefs, Abdoullahi Alliou said the Esu community should "continue to collaborate with the Administration" and security forces in promoting living together.

In Esu, the population is visibly aggrieved by the assassination of their royal couple and many have blamed Fulani herdsmen for the act.

On Thursday, images surfaced showing the entire roof of the Esu Mosque burnt down, reportedly by the population.

They claimed the murderers of their Fon were Fulani herdsmen most of who are Muslims.

But, in his communiqué, the SDO blamed the attack on "armed terrorists", a connotation usually used by state officials to refer to Ambazonia fighters in the Northwest and Southwest regions.

The SDO's promise of investigation is a statement that government officials in Cameroon have often made after attacks on civilians in the English-speaking regions.


But such promises of investigations and holding perpetrators accountable are hardly fulfilled, or at least the public is never told about the outcome of investigations.


This was the case after a soldier shot and killed a six-year-old in Buea on October 14 last year. Although the soldier was killed on the spot by a mob, Governor Bernard Okalia Bilai's promise of investigation has never been met.

A similar incident in the Northwest region on November 12, 2021, also received a promise of investigation, which Governor Adolphe Lele L'Afrique has not kept.


The killing of opposition Senator Henry Kemende in Bamenda on 11 January this has not also been investigated by authorities and until now, the killers remain unknown.

The plethora of loud-sounding, yet unfulfilled promises by government officials after armed attacks on civilians in the Northwest and Southwest regions has left the population uncertain about who to trust for justice and accountability amid an armed conflict where over 4,000 civilian deaths remain unaccounted for.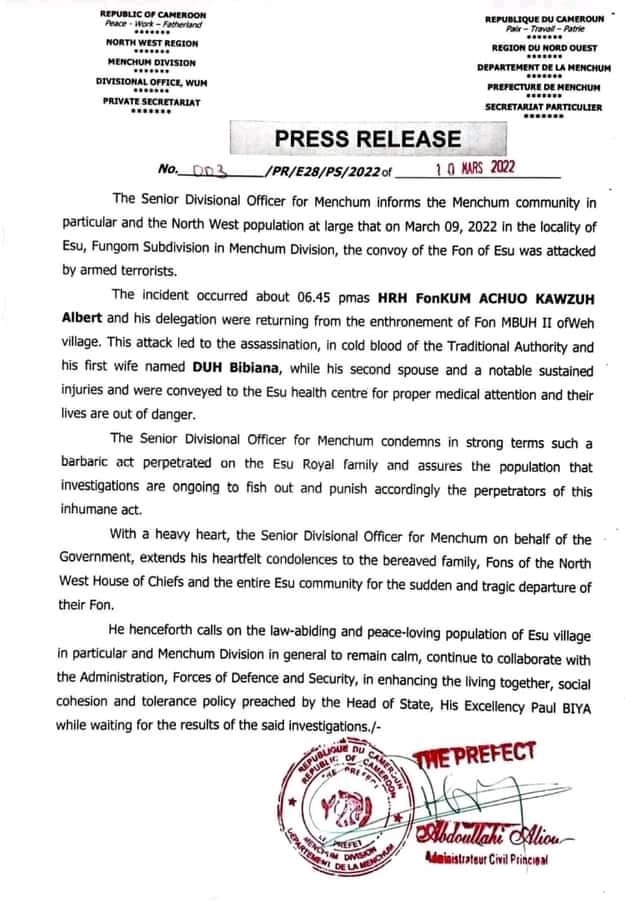 You can help support our work through the link below