On February 14, 2020, Cameroon's so-called professional soldiers slaughtered pregnant women and children in Ngarbuh, a locality in the country's North West Region.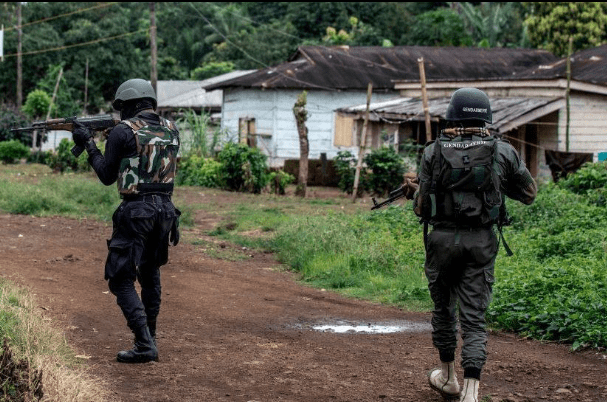 After the killings, the soldiers covered up their crime and went on to attribute it to armed separatist fighters in the area.
However, when pressure from the media, local and international rights groups came to bear on the government of 87-year-old President Paul Biya, an inquiry was carried out, and behold, the so-called professional soldiers were found to have been the 'butchers of Ngarbuh'.
Nor surprisingly, given that the government of Cameroon has done nothing to atone for the deaths of these innocent and helpless civilians, the atrocities have continued unabated. The trained army has worked hard to outsmart separatists in committing abominations.
At a time when the masses are yet to stop grieving for the victims of the Ngarbuh and the Kumba massacre, the military has done it again. Killing for fun!
A few days ago, a video went viral in which soldiers show an alleged separatist they had arrested. After interrogating him laughingly, they shot and killed him as they filmed. This came after the report of a girl shot by soldiers in Bamenda as they carried out their routine controls.
The killing of a breastfeeding mother, Lesline Fru Mamangang, 17, and another adolescent, Nde Sufor, 17, in Yangi quarter, Akum, Santa Subdivision, Mezam Division of the Northwest Region on Sunday represents the fatal outcomes of military assaults dependent on data from regular citizen witnesses. Two other persons were wounded in the maddening operation. This one happened in the village of Territorial Administration Minister, Paul Nji Atanga.
In the case of Ngarbuh, a repentant separatist fighter had misled the soldiers.
Sources say security forces stormed Akum around 11:30 p.m. last Sunday following a clue from somebody who guaranteed them that Amba boys were drinking in a famous joint known as Ntahmandam.
Onlookers asserted that after data from the unidentified individual, the gambling military officers started shooting at the beer parlour. A few occupants said Fru, a breastfeeding mother of a five-month-old kid, visited the said lager parlour to earn a living for herself from the sale of boiled eggs. It is with the proceeds of her sale that she takes care of herself and her baby.
Nde, on his part, was getting away from the bar when he saw the military moving towards the location. A bullet picked the 17-year-old from behind and he surrendered the apparition later.
Unlike in the past when the military has been quick to refute similar allegations, they are yet to react to this one. It is, however, not be the first time such atrocities have been committed based on unverified information from civilian informants.
During the Ngarbuh massacre, it was confirmed by a government investigation that civilian militia based on fake information that separatist fighters were using Ngarbuh to stockpile ammunition led troops in the attack.

Since the brutal conflict erupted in the Northwest and Southwest regions now in its fourth year, there have been several allegations, some proven, and others baseless, that some unscrupulous individuals with were using it to settle personal scores.
One of the cases was in Mutengene where a lady had agreed to marry a young man. He spent lavishly on the girl as a future wife but at the last minute, he was jilted. In revenge, the man reported to soldiers that she was cooking and supplying food to the separatist fighters.
She was picked up and taken to an unknown military location for interrogation and after grilling for a week during which her whereabouts were unknown, she was found blameless and freed.
Although she spent a week at the Baptist Hospital after her release, it was a real exhibition of military professionalism.
Government forces resumed their shooting lessons on civilians in the Northwest. After Luh, Akum, it is now the turn of Alabukam in less than 24 hours. A Mathematics teacher of GSS Bawum, Bafut, Amah Franco was shot dead on Sunday, killed by soldiers who fired sporadic gunshots as their drove past.
But is this how other military men have acted when given a tipoff by civilian informants?
Even if they are told Amba Boys are drinking in a spot, does professionalism not demand that they should be arrested and interrogated to get more information about them and accomplices? Why should any suspected professional army shoot in a bar when those drinking were not even in possession of any weapons? Why has the military been announcing only the number of separatist fighters 'neutralized' and exhibiting corpses and have never shown those captured?
There is no question that in times of war or peace, security operatives depend to some extent on civilian informants. Around the world law and security, officers often exploit testimony from confidential informants.
However, the practice carries serious risks that the informants could give false testimony especially in cases where the informant is motivated by a reward.
That is why professional practice requires that tipoffs from civilian informants should be checked with other independent sources for corroboration. That is what The Guardian Post urges the troops in the two regions to do. The cases of people using the war to settle scores are legion.
We are thus calling on security operatives to carry out scrupulous investigation before taking any actions. It would also be a mark of real professionalism to arrest real Amba fighters, unless where they pose a genuine danger to troops, rather than 'neutralize' them.
Without that, the tendency will be to instill fear in the minds of the innocent and gullible population. In such a situation, when they see defense and security forces approaching them, they flee.
Troops need to assemble participation and cooperation with regular citizens yet the onus is on them to demonstrate that they are out to secure and guard guiltless regular folks as any non-military personnel casualty in the possession of the soldiers extends the inlet of question which isn't valuable for the military's central goal.
© Mimi Mefo Info
You can help support our work through the link below