Journalist Joseph Abena Abena, working with La Nouvelle Expression is due to stand trial this Wednesday for defamation charges levied against him by the mayor of the city of Kribi, in Cameroon's South region, Guy Emmanuel Sabikanda.
According to Mayor Sabikanda, Joseph Abena who is also facing "false information" and contempt of a public authority charges insulted him in an article titled: The mayor of the city humiliates the Senior Divisional Officer, SDO. The said report featured on La Nouvelle Expression newspaper's June 15, 2020, edition.
The National Syndicate for Cameroonian Journalists, SNJC has reacted angrily to the trial, backing the journalist. Its President, Denis Nkwebo said Joseph Abena is not guilty of any wrongdoing and was simply exercising his professional duties.
"The SNJC which is a soldier to its members remains calm and trust the justice system… Joseph Abena Abena did nothing but relate the facts which took place in public space and the presence of witnesses of the seaside city of Kribi" writes SNJC.
Nkwebo described the cases as one of government's tactics to stifle expression.
"Journalist Abena Abena had been publicly threatened on several occasions by the supporters of the mayor" it revealed.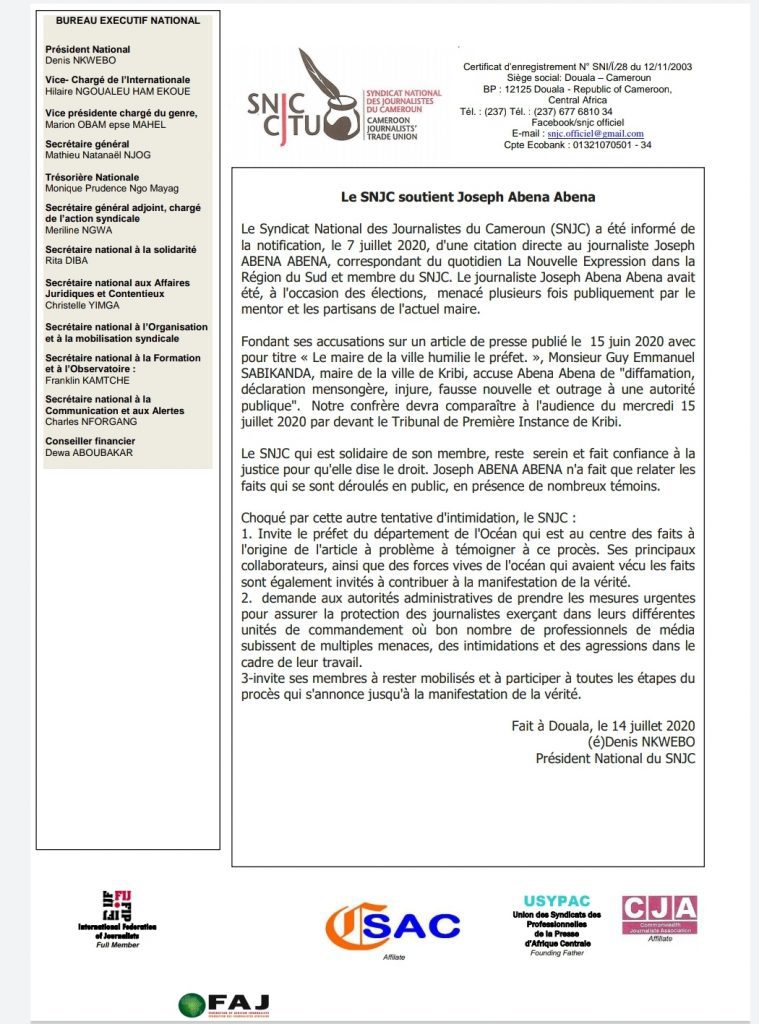 The SNJC also urged the Senior Divisional Officer of the Ocean Division who happens to be directly involved in the matter to ensure that the journalist is set free and cleared of all the charges.
"We call on the administrative authorities to take urgent measures to ensure the protection of journalists working in their various command units where many media professionals are subjected to multiple threats, intimidations, and attacks throughout their work," SNJC adds.
Members of the body and other journalists in Cameroon are mobilized than before, as they await the verdict's outcome.
Mimi Mefo Info
You can help support our work through the link below