The Popular Atcion Party (PAP) has expressed it's determination and engagement to support a mission to change the present government through peaceful unconstitutional method.
In a letter addressed to the president of Cameroon Renaissance Movement (CRM) dated 31st August 2020 and signed by PAP president Njang Denis Tabe, he stated that his political party is ready to work with the party of Prof. Maurice Kamto to save Cameroonians from the regime of president Paul Biya.
"For 40 years, Cameroonians have been living in bondage in the hands of president Paul Biya and his government. This has to stop and political parties should join hands to oust this regime".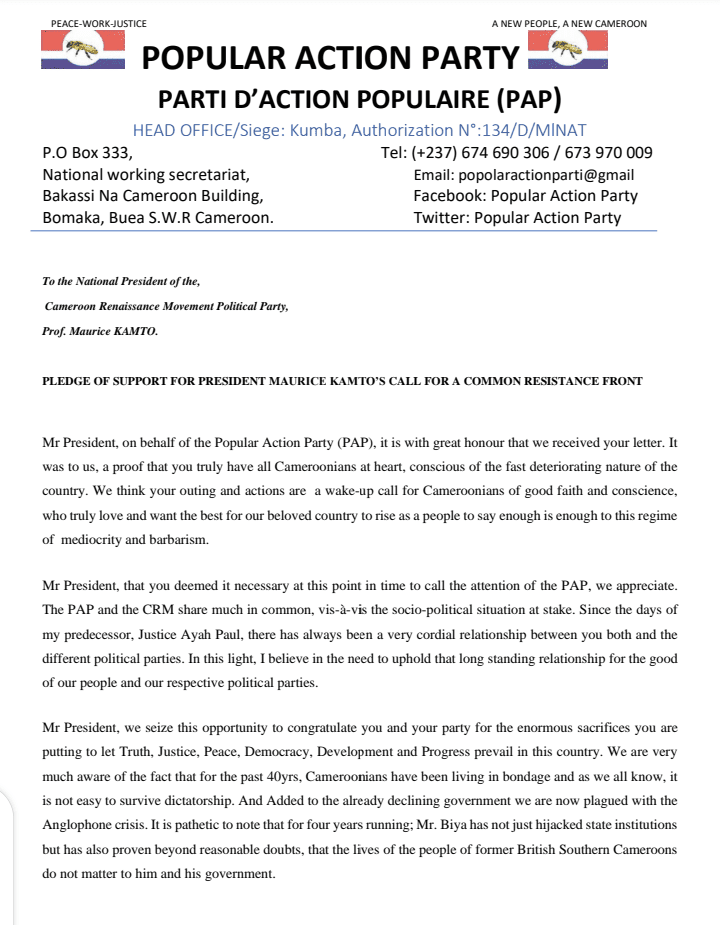 The Popular Action Party further suggest that the CRM should consult more political parties in the project for an eventual formation of a Coalition of the Opposition Renaissance Front with the main aim to change the regime.
PAP states that it is reacting to a demand from the leader of the CRM party for their support.
In a telephone interview with Fabrice Lena; secretary general of PAP party, he says "ballot boxes have failed to bring about the change so Cameroonians need to use extra constitutional means to attain the goal. The government of Paul Biya has failed Cameroonians. This is evident in her inability to resolve the anglophone crisis, stop attacks from Boko Haram, poor handling of COVID 19 and a lot more."
To Fabrice Lena, people should come together for a bloodless and peaceful protest. He enjoins the military to uphold patriotism in the process.
The move by CRM and PAP parties have been criticised by militants of the Cameroon People Democratic Movement (CPDM).
According to Malyse Douala Bell; a former CPDM parliamentarian for Wouri Centre in the Littoral region of Cameroon, parties should focus on preparing for the next presidential elections in 2025.
Speaking on the program "Carte Sur Table" on Spectrum Television on Monday September 1st 2020, the front line CPDM militant says the constitution needs to be respected at all cases to avoid chaos.
Mimi Mefo Info.
You can help support our work through the link below