Renowned Roman Catholic organization urges actors in separatist conflict to adhere to UN resolution 2532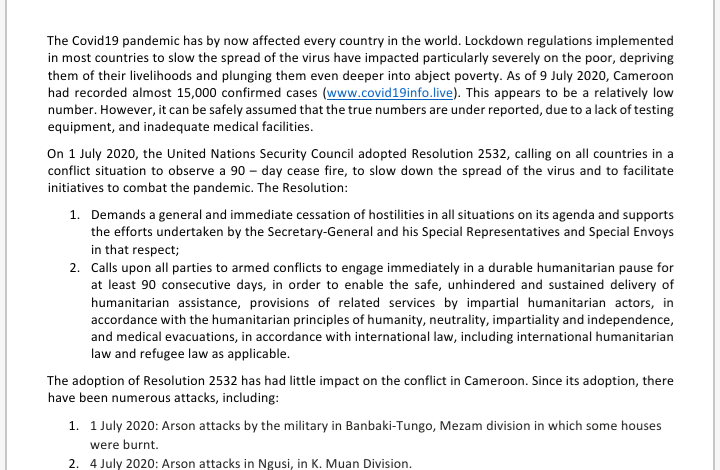 Cameroon's over 15,000 confirmed COVID-19 cases have in no way deterred government and separatist fighters from combatting in the North West and South West regions.
As countries hit by conflict opted for ceasefire weeks ago to curb further spread of the deadly pandemic, domestic and international calls for Cameroon to do same have fallen on deaf ears.
Another statement, Wednesday signed by international stakeholders at the Denis Hurley Peace Institution urged all parties involved armed conflicts "to engage immediately in a durable humanitarian pause for at least 90 consecutive days, in order to enable the safe, unhindered and sustained delivery of humanitarian assistance, provisions of related services by impartial humanitarian actors".
Archbishop Stephen Brislin, Liaison Bishop at the Denis Hurley Peace Institute says it is time to adhere to the UN resolution 2532. Passed on July 1, 2020. The resolution he adds, calls on "all countries in a conflict situation to observe a 90 – day ceasefire, to slow down the spread of the virus and to facilitate initiatives to combat the pandemic."
The Roman Catholic organization that promotes peace, justice, and sustainable development in Africa says the resolution among others "demands a general and immediate cessation of hostilities in all situations on its agenda and supports the efforts undertaken by the Secretary-General and his Special Representatives and Special Envoys in that respect".
The body says the resolution has however had little impact on the ongoing war in Cameroon's Anglophone regions. This it says can be seen in July 1st "arson attacks by the military in Banbaki-Tungo, Mezam division in which some houses were burnt … arson attacks in Ngusi, in K. Muan Division … Military invaded Bakut, in Eyumojck, and killed 2 men and arrested many youths… Clashes at Kikaikelaki, and invasion of Kikoo and Saakir villages."
Establishing the above, the Denis Hurley Peace Institute "calls on the Cameroon government and the Anglophone Cameroon leaders to respect the call of the United Nations Security Council, to adhere to Resolution 2532, and to work out an agreement for a ceasefire that can lead to genuine negotiations."
Lauding earlier ceasefire talks between the government and separatist fighters, the Institute hopes it will create an enabling environment for further peace talks. " We appeal to the Cameroon government and Anglophone Cameroonian leaders not to lose this momentum, but to adhere to Resolution 2532, and to use the ceasefire firstly to build the capacity to protect the health of all citizens of Cameroon in the wake of the Covid19 pandemic, and secondly to use the momentum to engage in peace negotiations that would result in a lasting peace agreement that expresses the will of the people of Anglophone Cameroon," the Denis Hurley Peace Institution said.
The war I'm Cameroon's Anglophone regions has been ongoing for close to four years today and has seen thousands killed and more displaced.
A government-held dialogue in November 2018 was rejected by separatist fighters who said the state failed to show good faith in its actions.
Mimi Mefo Info