By David Atangana
One of the factional leaders of the separatist movement in Cameroon has said there will be no senatorial elections in the crisis hit North West and South West Regions of the country.
Ayaba Cho Lucas, leader of Ambazonia Governing Council, AGovC, political wing of the Ambazonian Defence Forces, ADF, an armed separatist militia, issued the threat in a tweet Monday, January 16, 2023.
His reaction comes barely days after president Paul Biya announced the holding of Cameroon's senatorial election.
The election which would hold in the country's ten regions including the English-speaking regions where a separatist conflict has been going on for six has been scheduled for March 12, 2023 — according to the presidential decree.
"The elections called by Cameroon on March 12 are prohibited," Ayaba Cho tweeted.
"All facilitators of genocide and colonialism who attempt to legitimize foreign domination will be arrested," the AGovC leader went on.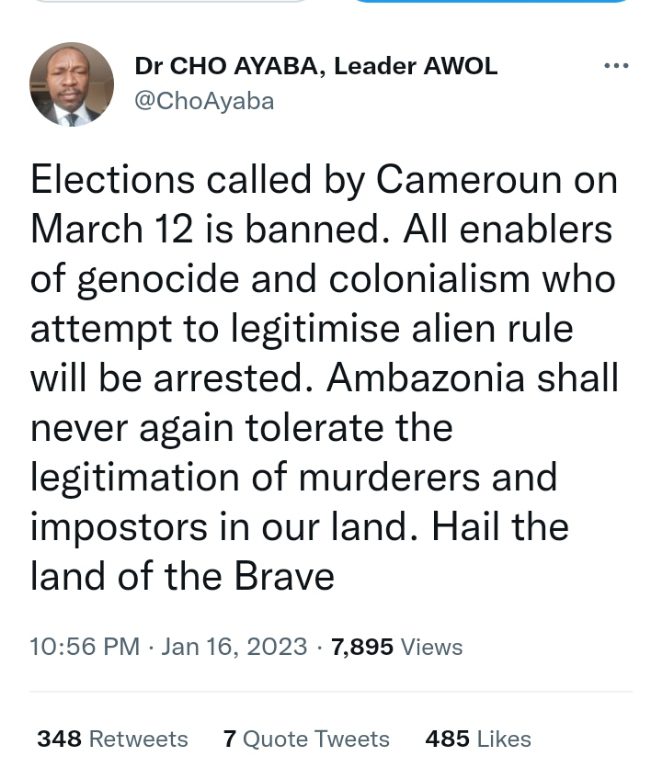 He added that: "Ambazonia will never again tolerate the legitimization of murderers and imposters on our land. Glory to the land of the brave."
Since 2016, armed separatist fighters have been battling with government soldiers to create an independent English-speaking state called Ambazonia.
Separatist have for several years threatened to disrupt elections organized by the government of Cameroon in the two regions.
Elections have however, been organized these regions in the past years with tight security — though with an insignificant voter turnout.
It is uncertain whether the situation will be different this time.
Mimi Mefo Info
You can help support our work through the link below