The Coalition for Dialogue and Negotiations have made public results of a survey it conducted on finding a way forward for Cameroon's Anglophone Crisis.
With some 3,749 respondents, the survey by the international NGO, aimed at resolving the Anglophone Crisis, is known to be the largest of its kind since the start of the four-year long conflict.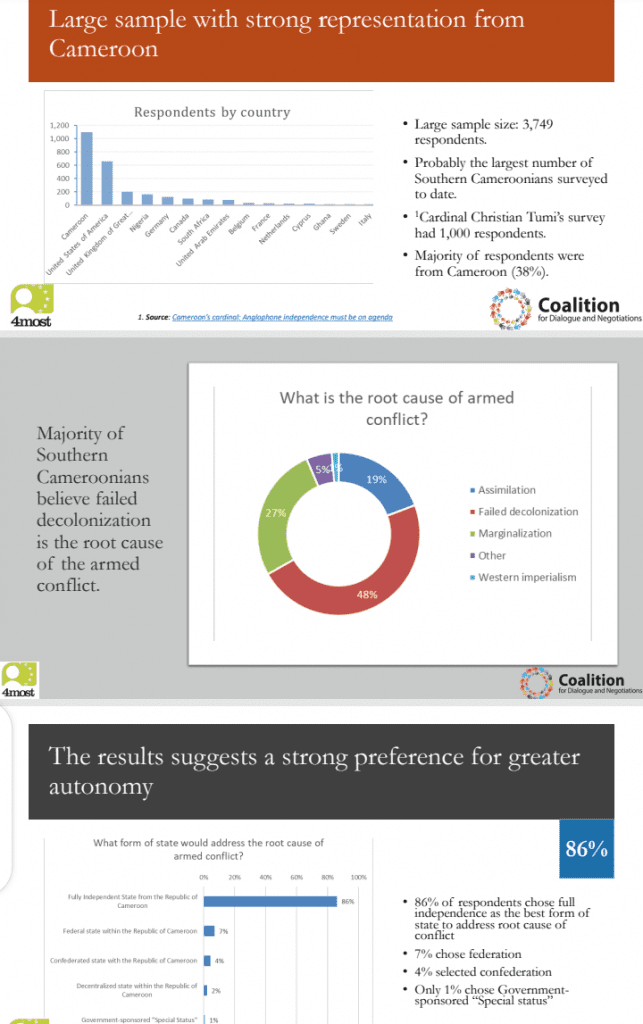 "The results suggest a strong preference for greater autonomy among Southern Cameroonians. Eighty six percent (86%) of respondents chose full independence as the best form of state to address the root cause of conflict. Seven percent (7%) chose federation and four percent (4%) selected confederation. Only one percent (1%) chose Government-sponsored 'Special status'," the Coalition's report read.
With regards to mediation, the Coalition sated that 80% of respondents "… Preferred a UN-mandated body as best mediator of the armed conflict."
The choice of a Swiss-led mediation followed with only 9%.
The said survey went on to cover other aspects including the choice of legal and educational systems.
The data analysed by 4Most, a Credit risk and analytics consultancy firm in London showed that "… The vast majority (87%) of respondents prefer an independent judicial system based on common law … while Anglo-Saxon Educational system was favorable (57%), many Southern Cameroonians would like to see a newly developed educational system (38%).
Another major aspect handled by the survey was the choice of security personnel. 96% of respondents did not approve of gendarmes as law enforcement officers. An overwhelming 80% expressed the desire for locally controlled police forces instead.
A majority of respondents (38%) the Coalition noted, was from Cameroon. The remaining respondents were from the United States (23%), United Kingdom (7%), Nigeria (6%), Germany (4%), Canada (3%), South Africa (3%), United Arab Emirates (3%) and other countries.
The results which suggest a strong preference for greater autonomy among Southern Cameroonians reflects similar findings made in a survey conducted by Cardinal Tumi last year which had over 1,000 respondents.
Mimi Mefo Info
You can help support our work through the link below