"For two years I have been living in Douala as an internally displaced person and I have never received any assistance from the Cameroon government…"; this is the story of Tah James, a native of Buabua village Boyo division in the North West region of Cameroon.
The 57-year-old man and a father of five says he is squatting in a room with children, hoswife and other relatives in Bonaberi Douala.
"We ran away from Buabua village when Fulani men accompanied by the military invaded the villages burning houses in a bid to fight separatists" He adds breaking down into tears.
Just like James, over five hundred internally displaced persons from the restive North West and South West regions of Cameroon say they have been abandoned by the government of Cameroon most especially at the time of school resumption for the 2020/2021 academic year.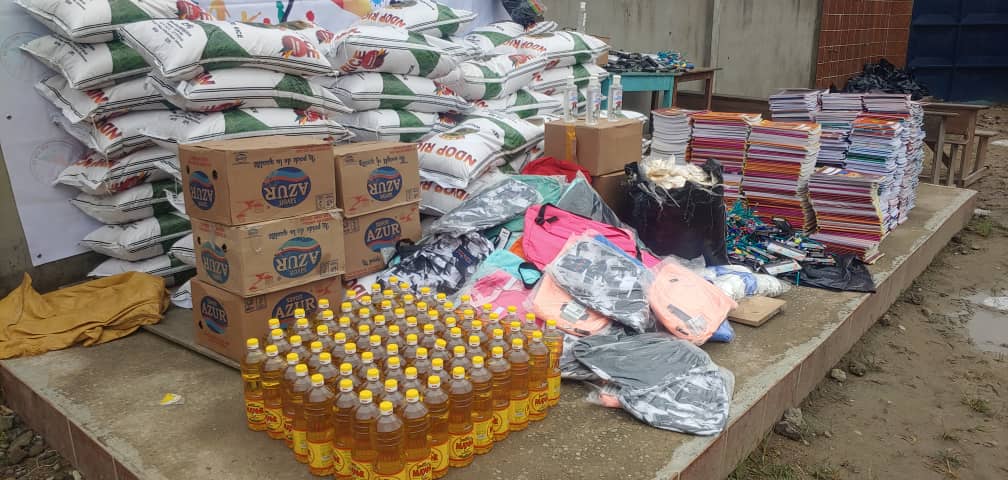 It is due to this desperate situation of people fleeing violence in the North West and South West regions that Survie Cameroon Survival Initiative (SCSI) is extending a hand of fellowship.
The humanitarian group created by professor Maurice Kamto has offered school materials and food stuffs to over five hundred internally displaced persons residing in Bonaberi Douala 4 in the littoral region.
According to Fabrice Lena, coordinator of the SCSI humanitarian assistance in Douala "Survie Cameroon Survival Initiative understands the plight of IDPs most especially during this period of back to school. Though officially created to help Cameroonians overcome the coronavirus pandemic, SCSI thought it wise to assist IDPs during this critical time in their lives".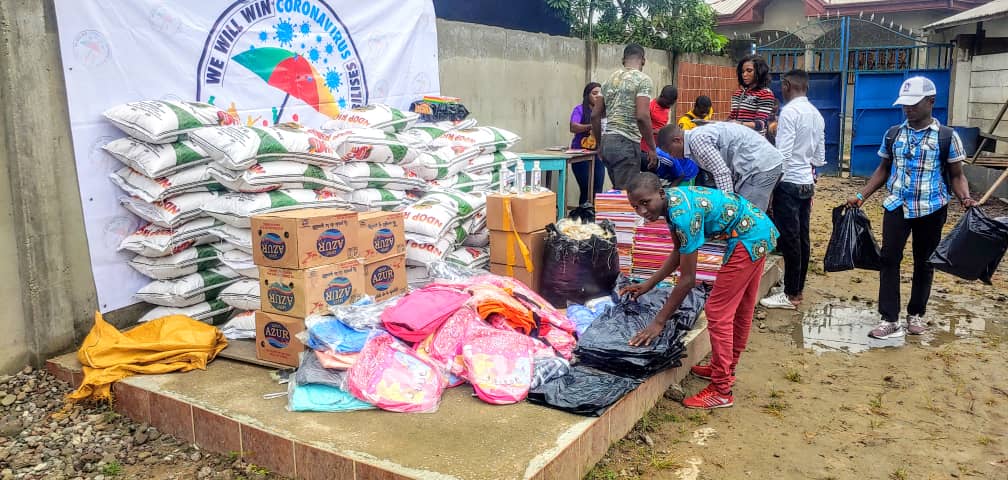 SCSI has distributed rice, soap, oil, exercise books, school bags, pens, pencils and other school materials worth 3.5 million francs cfa to over 500 IDPs.
Fabrice Lena who doubles as the secretary general of Popular Action party says "We have put in place what we call Internally Displaced persons Rescue Network. This is made up of selected educated IDPs who carry out data by moving around recording statistics of how they live and which type of help is appropriate for them at what time.The information gotten is forwarded to the central planning team of SCSI. This gives us authentic information on how to assist these our brothers and sisters that have been chased away from their comfortable villages in the North West and South West regions of Cameroon by military/separatist violence".
Beni Bernard from Boyo division in the North West region of Cameroon says he has been living as an IDP for thirteen months with his eight children living in different places given that his single room cannot accommodate his family. Receiving a bag of rice, soap and other school materials from Survie Cameroon Survival Initiative, he appreciates the gesture.
"The government has totally abandoned us. We don't need assistance from the government. All we need is to resolve the Anglophone crisis so that we can go back to our homes and live our normal life. We have been beggars and homeless people since 2017 and it's enough" he laments.
Apart from distributing food stuffs and school materials to Idps in Bonaberi, Fabrice Lena states that a similar distribution exercise has taken place in two different places in Yaounde that have the highest concentration of internally displaced persons from the Anglophone regions of Cameroon.
By Mbatho Ntan.
You can help support our work through the link below