Prof Maurice Kamto, leader of the Cameroon Renaissance Movement, MRC is also part of an ongoing outcry of injustice on the country's media landscape.
In a declaration on the journalist's arbitrary arrest, torture and death, Kamto says the regime in place does not value human life.
"Abuwe Ajieka is just one more victim, after so many others, who have paid with their lives the price of the exercise of their profession" Prof Kamto says.
While calling for justice, the MRC says it wants those responsible for Wazizi's death at all levels to he identified, prosecuted and punished according to the law – noting that CRM militants have been victims of similar inhumane acts, Kamto. "15 militants of the party are still incarcerated," he adds.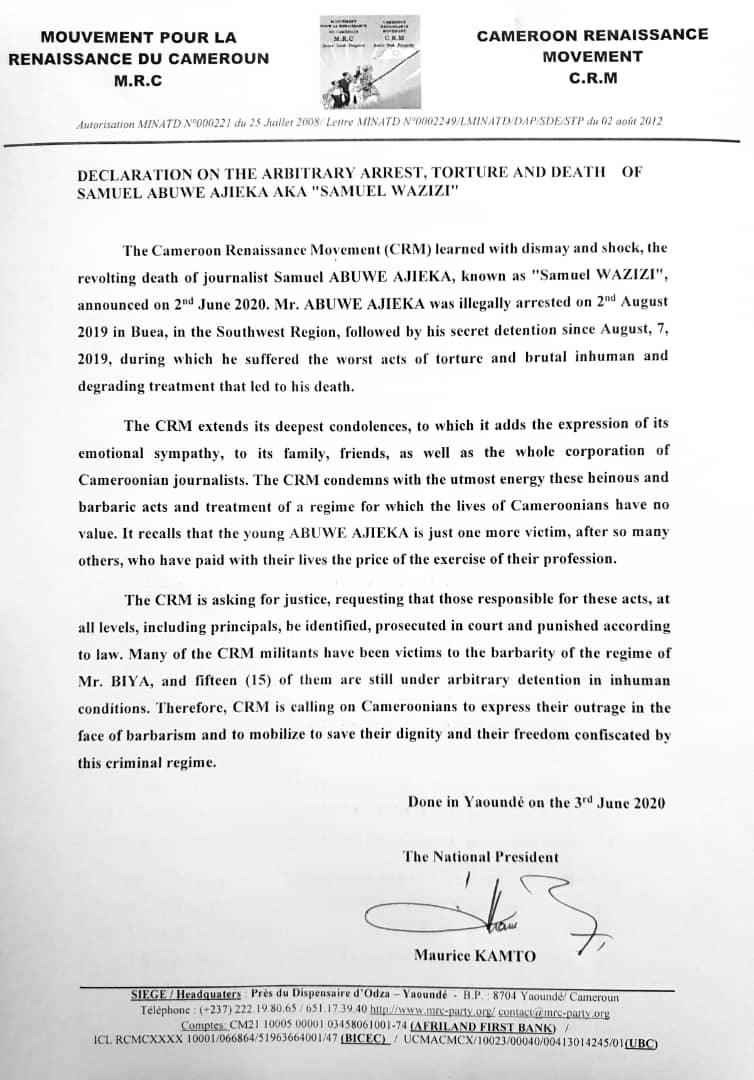 "CRM is calling on Cameroonians to express their outrage in the face of barbarism and to mobilize to save their dignity and their freedom confiscated by the criminal regime" says Kamto.
Prof Maurice Kamto adds to the list of many other politicians and activists that have called on members of the press to fight for justice for Samuel Wazizi. The Cameroon Journalists Trade Union and Cameroon Association of English Speaking Journalists have however called on pressmen and women to remain calm as they await further instructions.
(C) Mimi Mefo Info
You can help support our work through the link below